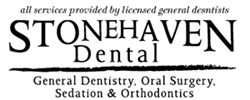 Salt Lake City, Utah (PRWEB) September 10, 2013
Finding reliable dentists in Utah can be a stressful and exhausting endeavor. Often people have ideas for what they are looking for: a beautiful facility with a customer-centered staff that will not keep people waiting long and pain-free procedures and treatments. Stonehaven has proven their dedication to providing those criteria, along with developing their wide client base throughout the years. Recently opening their fourth office, Stonehaven family dental in Salt Lake City has been operating their cutting-edge practices with the mindset of putting their patients at ease and providing high quality level of care. They specialize in a wide variety of procedures, including crowns, implants, veneers, and root canals in UT, and utilize the latest techniques. Now they are offering a referral program to their existing patients as well as their new clientele.
Stonehaven wants to offer incentives to their current patients while growing their clientele.
The referral process is simple. Current patients are allowed to take cards that are located at each office and fill it out with their names and information. They then hand them out to family and friends. Stonehaven dentists in Utah will reward both parties; the existing patient and the new one for the recommendation. Each receives a $20 credit to use towards their dental work, including procedures such as implants and root canals in UT. The $20 credit isn't redeemable for cash but can be utilized on any visit to the office. It can be used for the person who did the referral or someone on their account, like a spouse or child. Stipulations also state that only no family members in your household can utilize the credit as a new patient on a separate account.
The group at Stonehaven family dental in Salt Lake City are professionals that care about their patients along with their keeping prices for their services low and affordable. Offering incentives demonstrates their resolve to focus on quality customer service and low costs for their patients. With their referral plan, they are driving down the cost for major procedures, including crowns, implants and root canals in UT. With no limitations on the number of referrals available, patients have an endless amount of credits at their disposal, giving the Stonehaven dentists in Utah an edge over the competition. For more information about their services, specials or the procedures they offer, visit their website at http://www.stonehavendental.com.