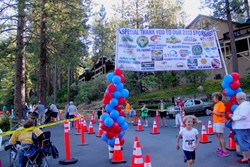 We had 104 athletes, which was more than expected, 78 fantastic volunteers, 42 community sponsors, great weather & most importantly lots of smiles
Bass Lake, CA (PRWEB) September 10, 2013
More than 100 mountain area youth, as well as kids from outside the mountain communities, took part in the first ever My Tri Youth Triathlon at Bass Lake Saturday.
Event organizers say the inaugural race was an unqualified success.
"We had 104 athletes, which was more than expected, 78 fantastic volunteers, 42 community sponsors, great weather & most importantly lots of smiles," said Michelle Miller with Miller's Landing Resort, the venue for the race.
Kids aged 5 to 17 all took part in the event, which included a masters and juniors division length swim, bike and run. Masters swam for 100 yards, biked for four miles and ran for one mile while the junior division athletes swam a 50 yard course, biked for 1.5 miles and ran for half a mile.
"The kids were so excited to look up from the dock as they prepared to begin the race and see hundreds of people lining the streets and shoreline cheering them on and holding signs for their favorite athlete. Whether they placed or not I think each child felt a sense of accomplishment and made a memory to look back on with pride," said Miller.
While those involved complimented the athletic ability of the kids who participated, there were several heart-melting moments throughout the race as well.
"A little girl running with her stuffed animal and another completing 1.5 mile bike ride with training wheels, kids looking at their body-marked race numbers like a badge of honor, and so many more. But the best moments of the day were seeing the smiles on all the kids faces," said event organizer Carrie Waltner.
A wrapup meeting is scheduled to go over the event, but organizers are already looking at next year at what many are certain will soon be a premier event for Bass Lake.
Results:
Junior Division
5/6boys
1st Ben Olney – North Fork
2nd Jack Olney – North Fork
3rd Luca DeBernardi – Bass Lake
5/6girls
1st Evelyn Marshall – North Fork
2nd Cailin Manning - ?
3rd Toni DeVito – Oakhurst
7/8 boys
1st Dominic DeBernardi – Bass Lake
2nd Logan Bradley - Oakhurst
3rd Daniel Weir – Coarsegold
7/8 girls
1st Ester Martinez – North Fork
2nd Adalie Waltner – North Fork
3rd Ashlyn Waltner – Fresno
9-11 boys
1st Christopher Stuber – North FOrk
2nd Justin Beaumont - Coarsegold
3rd Grayson Kendall – Coarsegold
9-11girls
1st Lauren Griffin – ?
2nd Luna Moreno – North Fork
3rd Hannah Beaumont – Coarsegold
12-14 boys
1st Brendan Reed-Crabb - Fresno
2nd Sage Crosswhite - Ahwahnee
3rd
12-14 girls
1st Felicity Johnson - NF
2nd
3rd
Master Division
9-11 boys
1st Orion Cicoletti – North Fork
2nd Daniel Martinez – North Fork
3rd Luke Little – Coarsegold
9-11girls
1st Clair Tuggle - Coarsegold
2nd Elianna Torres - Fresno
3rd Mia Coffman – El Portal
12-14 boys
1st Theodore Tuggle - Coarsegold
2nd Burke Stewart – Bass Lake
3rd Peter Martinez – NF
12-14 girls
1st Ella Campbell - Coarsegold
2nd Juliana Sullivan - Clovis
3rd Megan Rich – Coarsegold
15-17 boys
1st Quinn Hilliard – Oakhurst
2nd
3rd
15-17 girls
1st Kelea Kamalani – Coarsegold
2nd Ashley Reed-Crabb – Fresno
3rd Brooklyn Bragdone - ?
-END-