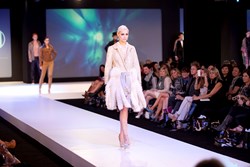 Bellevue, WA (PRWEB) September 10, 2013
Following the highly anticipated Independent Designer Runway Show (IDRS) on Wednesday, Sept. 25th, all featured designers' fashions will for the first time be on sale at the all new IDRS Pop-Up Shop in Papillon, just steps away from the runway show venue at the Hyatt Regency Bellevue. Demand to purchase these unique fashions last year led to the decision to launch a temporary pop-up shop and several trunk shows at The Bellevue Collection. Three venues will feature all or select items:
Papillon Independent Designer Runway Show Pop-Up Shop
Papillon, Bellevue Place | September 25 – October 2
Shop all the 2013 IDRS designers clothing immediately following the runway show and throughout the following week. This will be the most comprehensive shop. For more information, call (425) 454-7324.
Trillium Custom Tailoring & Design Trunk Show Featuring Paychi Guh
Trillium Custom Tailoring & Design, Bellevue Place | September 25 - 29
Be the first to shop the Paychi Guh Fall 2013 Collection immediately after the runway show at Trillium. Celebrate with champagne, meet designer Paychi Karen Guh, and experience the luxurious cashmere pieces firsthand. For more information, call (425) 454-0292.
Elements Gallery Trunk Show Featuring Jewelry by Luminita
Elements Gallery, Bellevue Place | September 26, 2013
The Twisted and Candies collections by Luminita will launch at the Independent Designer Runway Show. Come see the unparalleled quality, ingenuity, and innovative use of organic materials such as luxury leather, antique silver, metallic and glass beads, and fused glass elements. To RSVP, call or email Elements Gallery at (425) 454-8242 or elementsgallery(at)qwestoffice(dot)net.
"Promoting and mentoring the success of independent fashion designers in the Puget Sound area is an important fashion focused initiative for our company," says Jennifer Leavitt, vice president of marketing, The Bellevue Collection. "The show is a significant way to showcase their work, but making it physically available to our customers is where designers get the opportunity to build their business. We are excited for them and grateful to Papillon for setting up this outstanding pop-up shop."
For tickets and more information on Fashion Week at The Bellevue Collection events, visit bellevuecollection.com/FashionWeek.
About The Bellevue Collection
Located in the heart of Bellevue, Washington, The Bellevue Collection, owned by Kemper Development Company, includes Bellevue Square a super-regional upscale shopping center, Bellevue Place, a mixed-use property featuring the Hyatt Regency Bellevue and small boutiques and Lincoln Square anchored by the Lincoln Square Cinemas, restaurants, home furnishings and The Westin Bellevue hotel. With a distinctive collection of 250 of the finest shops, 25 destination restaurants, a 16-screen premier cinema, 1,100 luxury hotel rooms and 10,000 free retail parking spaces, all in one location. The Bellevue Collection is shopping, dining and nightlife and entertainment experience unlike any other in the region. It is located on Bellevue Way between NE 4th and NE 10th Streets in downtown Bellevue, just across Lake Washington from Seattle.