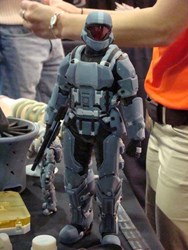 WESTEC 2013 is a great opportunity for companies to learn how they can best utilize 3D printing today, while thinking about how to implement this technology in the future.
Los Angeles, California (PRWEB) September 10, 2013
WESTEC, the premier West Coast manufacturing event, will feature a series of additive manufacturing resources for manufacturers. This will include an Additive Manufacturing/3D Printing Resource Center, Additive Panel Discussion, and an Additive Manufacturing Certificate Program. Produced by SME, WESTEC 2013 will take place at the Los Angeles Convention Center, October 15-17, 2013.
Additive manufacturing, often referred to as 3D printing, is the process of creating three-dimensional objects from a digital model via an additive, or layered, process. While SME has been advancing additive manufacturing for close to 25 years, the technology has only recently gained broader visibility in the media.
"Additive manufacturing and 3D printing is an enabling technology for manufacturers," said Todd Grimm, president of T.A Grimm & Associates and recognized as one of the most influential names in the additive manufacturing industry. "WESTEC 2013 is a great opportunity for companies to learn how they can best utilize 3D printing today, while thinking about how to implement this technology in the future." Grimm will be leading discussions in the resource center and moderating panels on the topic.
The Additive Manufacturing/3D Printing Resource Center will serve as a convening location for new technologies and information. On display will be parts representing major additive manufacturing technologies including stereolithography, laser sintering and fused deposition modeling. Attendees will find information on how this technology can lower production expenses, speed product development, and enable new designs. Additionally, the resource center features "Knowledge Bar" sessions to increase understanding of 3D printing concepts and utilization.
The Additive Panel Discussion will take place on Wednesday, October 16 at 12:15 p.m. and will address various questions surrounding the future of the technology. The panelists are:
Boris Fritz, engineer 5, Strike and Surveillance Systems Division, Northrop Grumman Aerospace Systems.
David Gurrola, president & CEO, GROWit.
Ken Patton, executive director, RapidTech, University of California-Irvine.
SME is also offering an opportunity to attend a review course and exam for the Additive Manufacturing Certificate. Held alongside WESTEC, this certificate program is a collaborative effort of SME, the Milwaukee School of Engineering, and the National Additive Manufacturing Innovation Institute
"WESTEC 2013's various additive manufacturing offerings will carve out new opportunities for companies while simultaneously educating them about new innovations," said Christine Longroy, WESTEC event manager. "Our goal is to get companies thinking about different ways to use this advancing technology."
For more information, and to register for WESTEC 2013, visit westeconline.com.
About WESTEC:
WESTEC, the region's definitive manufacturing event, returns to the Los Angeles Convention Center fall 2013. The three-day event gives you access to the latest technologies, equipment and products from the industry's leading innovators. Products and technology are highlighted through interactive exhibits, education and networking.
About SME:
SME connects all those who are passionate about making things that improve our world. As a nonprofit organization, SME has served practitioners, companies, educators, government and communities across the manufacturing spectrum for more than 80 years. Through its strategic areas of events, media, membership, training and development, and the SME Education Foundation, SME shares knowledge to advance manufacturing. At SME, we are making the future. Together.