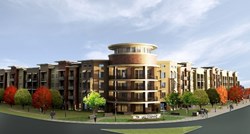 It has been exciting to bring US Freedom Capital and this particular project to our foreign investors
Dallas, Texas (PRWEB) September 11, 2013
US Freedom Capital LLC announces the successful launch of a $40 million EB-5 Investment. Recent Regional Center designation approval by the United States Citizenship and Immigration Services ("USCIS") allows US Freedom Capital to pave the way for job creation in North Texas.
With primary sales operations based in China, US Freedom Capital is raising $40 million to invest in construction of luxury multi-family properties in Richardson, Las Colinas and Austin, Texas. Total construction cost of these three properties developed by TDI of Irving, Texas is $160 million. US Freedom Capital raises investment funds from foreign investors and provides financing to commercial real estate projects creating jobs and economic growth.
"It has been exciting to bring US Freedom Capital and this particular project to our foreign investors" says company CEO Stan Bradshaw. "We are accumulating lots of airline miles as we tell the world about our great Texas economy and the experienced team at USFC."
The EB-5 Visa program provides the opportunity for qualified foreign nationals to achieve permanent legal residency ("green card") status in the US through an investment in a USCIS-approved project that will generate at least 10 full-time US jobs per investor. EB-5 regional centers are pre-approved entities that allow EB-5 investors to pool their money together. US Freedom Capital's Regional Center makes the job creation requirement easier on investors by professionally preparing and managing the investment for full EB-5 immigration program compliance.
US Freedom Capital LLC
Launched in early 2011, US Freedom Capital was founded to create US economic and job growth with foreign investments through the USCIS EB-5 immigration program. The Management Team includes veteran real estate executives and the top three USCIS immigration officials under President George W. Bush. The firm assists qualified high net worth foreign investors who desire to immigrate to the US and offers EB-5 compliant job creating North Texas commercial real estate investments.