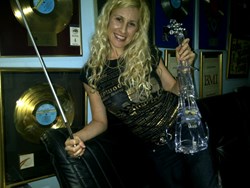 Let's face it; every eccentric pianist wants a white grand piano, so I wanted a white violin.
Los Angeles, CA (PRWEB) September 10, 2013
When "Fender bender" is heard in relation to the musical instrument producer Fender, one might imagine some sort of string instrument being played so hard that it warps. A Fender bender in this context is a really good thing, but the Fender bender for electric violinist IlseViolin wasn't like that.
South African born IlseV's Fender bender was more like a car screeching to a sudden halt followed by an unexpected accident. Her Fender bender is that she is a violinist that has been left violin-less. IlseV's favorite violin is the Fender FV-1, the same violin that she has played since 2001 and has graced stages and clubs across the globe with her performances of what she calls "dance and trance" music. Since Fender is no longer producing the unique FV-1, Ilse's cherished famous white violin is the last of its kind and she is now leaning toward a new instrument that is really a show stopper with its LED illuminated body and lasers on the strings. Fender approached IlseV to endorse its FV-1 violin in 2011 and she was honored for the opportunity to represent her favorite instrument. The renowned manufacture, however, made a vague announcement in 2012 that it was bowing out of the violin line, leaving IlseV dismayed.
"This came as a bit of a letdown to me" Ilse says. "I have been playing this brand of instrument since 2001 when I imported it into South Africa from Germany. At that time there were only seven in the country.
"Let's face it; every eccentric pianist wants a white grand piano, so I wanted a white violin."
IlseV's whole life is playing the electric violin, travelling the world playing the club and festival scenes from Australia, Asia, Europe and New Zealand to her native South Africa, and she just landed in Los Angeles six months ago.
IlseV needs a new brand of signature violin and she has been on the lookout for a worthy instrument to endorse and she has just found one. It is an all-acrylic, see-through electric violin that has been described to look like a cross between a bong and a sex toy. Violinmaker Ted Brewer, who created the electric instrument, has been making unique, superior quality instruments for more than 20 years, and his latest creation appears as though it was conceived personally for the popular IlseV. She was so enthralled with Brewer's creation that she ordered one before it was even released last May, and she is now continuing to wow audiences around the world with a new touch to her already celebrated performances.
The new violin has been a perfect touch to her performances, and she is using it to play the theme song for Michael Madsen's new feature film, "Starlet Massacre," which currently being filmed.