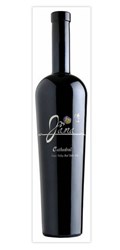 The 2005 Jana Cathedral definitely wows upon entry ~ Gayot Review: Best Cabernet Sauvignons in the World
Napa Valley, California (PRWEB) September 10, 2013
Gayot, the highly-respected, 44 year old "Guide to the Good Life," has given two of its top awards to Scott Harvey Wines 2005 Jana Cathedral: Top Steak Wine and Best Cabernet Sauvignons in the World. In their September 2013 feature, "Best Wines for Pairing with a Steak", the Cabernet Sauvignon received the highest score of all 10 wines highlighted by Gayot.
"The 2005 Cathedral definitely wows upon entry," the review begins. "Its intense, concentrated fruit flavors boast plenty of complexity and show an excellent balance of acidity and tannin. Match Cathedral with perfectly marbled wagyu beef or dry-aged Angus steaks."
Gayot also chose the Cabernet Sauvignon from Scott Harvey Wines for "The Best Cabernet Sauvignons in the World." Here, they reviewed 76 Cabernets from all corners of the world. Only 5 of the 76 selected received a higher score. Jana 2005 Cathedral finds itself in very good company, including: Joseph Phelps Vineyards 2006 Insignia, Staglin Family Vineyard 2008 Estate Cabernet Sauvignon, Duckhorn Vineyards 2004 Estate Grown Napa Valley Cabernet Sauvignon, and Chateau Montelena 2007 Cabernet Sauvignon.
"Receiving these honors is wonderful, of course," said winemaker Scott Harvey, "but most of all, Jana Cathedral is a fun wine to craft. I believe in crafting Napa Valley Cabernets the way they used to be crafted back in the 1950s and 60s, and that's at below 14% alcohol with a good lower pH that will make the wine last for years and years. That will also make the wine delicate enough that it will go well with food without overpowering it."
Jana Winery is named for Scott Harvey's wife, Jana. The Cathedral label celebrates Cathedral Rock in Sedona, Arizona, where Scott proposed marriage to Jana.
Scott Harvey, the winemaker, believes in careful attention to balance in his winemaking. "The small crop and berry size allows for full maturity of the grapes at lower sugar levels allowing us to make a true regional and varietal wine at 13.5% alcohol." Scott, who is European-trained, explained, "This vineyard allows me to produce a Napa Valley Cabernet as a balanced, complete wine."
The 2005 Jana Cathedral is a Bordeaux Blend. Aging for over two years in French Oak achieved a flavorful wine with well-rounded tannins. The Jana 2005 Napa Valley Cathedral is a Library Wine. Limited quantities are available at http://scottharveywines.com.
About Scott Harvey Wines and Jana Winery:
Handcrafted wines from Amador County and Napa Valley, Scott Harvey Wines produces wines under three labels: Scott Harvey Wines, Jana Winery and InZinerator. Established in 2004, Scott Harvey Wines features Amador County Barberas, Zinfandels and Syrahs, Napa Valley Cabernet Sauvignon and Zinfandel, along with a variety of one-of-a-kind white and red wine blends. Creator of "niche wines that over deliver," 2013 marks Scott Harvey's 40th Harvest.
Learn more at http://scottharveywines.com.
About Gayot:
For over forty years, sophisticated travelers have trusted GAYOT guides to direct them to the best restaurants, hotels, shops, sightseeing and cultural attractions throughout the world.