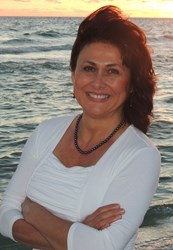 Great books can help us take better care of ourselves, our communities, and the world around us
Hot Springs, Arkansas (PRWEB) September 10, 2013
Arkansas author, speaker and intuitive coach Paula Renaye has won the gold medal for personal growth and motivation in the 2013 Living Now Book Awards. This recognition marks Renaye's fourth award for her acclaimed self-improvement book,Living the Life You Love: The No-Nonsense Guide to Total Transformation, and her ninth national book award for her published works.
"The Living Now Book Awards are intended to recognize and promote newly-published lifestyle books that help us keep ourselves, our families, and the Earth healthy – today, and for future generations," says Awards Director Jim Barnes. "Authors and publishers all over the planet are helping readers sense the need to slow down, see and feel the natural world around them, and to find balance in their lives."
Renaye agrees, noting that the award reflects her own personal mission to help people break through the limited thinking and negative patterns and make positive changes in their lives. "You don't have to settle," she says. "You really do have the power to make your life better, and you can start right now."
Renaye's award-winning book, Living the Life You Love, is described as a step-by-step guide with real-world stories and practical tips, techniques and workbook exercises that provide a template for life transformation. Therapists, social workers, chiropractors, addiction specialists and other mental health and medical professionals recommend the book with endorsements such as, "All the benefits of serious therapy in one book!"
Additional honors include being selected as the gold medal winner for self-help in the 2013 Independent Publisher Book Awards and named to industry leader Kirkus Reviews' Best of 2012."…a concise, encyclopedic guide-cum-workbook that does the job of multiple existing titles, all while adding profound, useful insights and strategies to the conversation. …deeply human, compassionate and supportive." (Kirkus Reviews starred review, critics' pick)
According to Barnes, candidates for the Living Now Book Awards are books written and designed to help improve and enhance lives through creative ideas, inspiring advice and time-saving tips in wholesome, Earth-friendly ways. He says, "Great books can help us take better care of ourselves, our communities, and the world around us."
Renaye notes that Living the Life You Love is now available worldwide in English, Spanish and Chinese, which has expanded her audience internationally. "I love hearing from readers in other countries and how they have made much needed changes in their lives by working with the book," she says, " Because when one person's life improves, the world improves—individual change creates global change."
Renaye currently resides in Hot Springs, Arkansas, known for its healing thermal waters, abundant lakes and extensive quartz crystal deposits. She will be conducting life transformation workshops for women in Arkansas in November and in Destin, Florida in December. More information about Renaye and her work, along with a current schedule of classes and workshops may be found at http://www.PaulaRenaye.com.
ABOUT
Submitted by Jami Jones, Publicity Director for Diomo Books, publisher of Living the Life You Love by Paula Renaye.
Paula Renaye is a Certified Professional Coach, motivational speaker, Usui Reiki Master Teacher, Quantum Healing Hypnosis Technique practitioner, EFT practitioner and intuitive healer. She is the eight-time award-winning author of Living the Life You Love: The No-Nonsense Guide to Total Transformation. She works with clients worldwide. Visit http://www.PaulaRenaye.com.
http://www.amazon.com/Living-Life-Love-Transformation-ebook/dp/B0093C7JUK/ref=tmm_kin_swatch_0?_encoding=UTF8&sr=&qid= by Paula Renaye is distributed in the US, Canada, Australia and the UK by SCB Distributors and is available in paperback and digital formats. Trade Paperback • 5 ½ x 8 ½ • 288 pages • $15.95 • Paperback ISBN: 978-0-9674786-9-2 • eBook ISBN: 978-0-9674786-8-5 • Available worldwide in English, Chinese and Spanish.