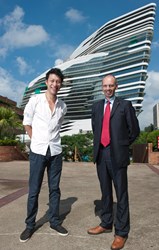 (PRWEB) September 10, 2013
The Jockey Club Design Institute for Social Innovation (J.C. DISI) of The Hong Kong Polytechnic University (PolyU) will launch its first signature event – "10-Day" Social Innovation Festival from 27 September to 6 October 2013 in the brand new Jockey Club Innovation Tower on the university campus.
Evolving around the theme of "Making a change in 10 days", the first Social Innovation Festival is a 10-day programme filled with activities ranging from live band performances, documentary film shows to creative exhibitions, public lectures and workshops for a wide spectrum of audience and stakeholders. Through taking part in these exciting and enriching activities, participants are expected to bring potential change to their own community and make a difference in society, no matter how small it is.
Grouped under "Performances & Exhibitions", "Public Lectures" and "Workshops", major highlights of the "10-Day" Social Innovation Festival include:
【Performances & Exhibitions】
Festival Opening
27 September, 3:30-7:30 p.m. PolyU campus
Young local fashion designers have come together in an effort to redefine fashion for the silver age. They have created 30 outfits that will be presented by silver age models during the Festival's opening ceremony. In addition, the live performance titled "City Inside a Broken Sky" led by artist Mr Kung Chi-shing from 6 to 7:30 p.m. will definitely liven up the atmosphere on campus.
Landmark Installations
27 September – 6 October, PolyU campus
Two large-scale bamboo installations, "The Wheel" designed by Dutch visual artist Antoon Versteegde and "Ladders" by award-winning architect William Lim will be put up on the campus with the help of local students to mark the opening of the Festival.
Changemakers Cinema
28-30 September and 4-5 October, 7 p.m. Jockey Club Innovation Tower
A total of five documentary films about social innovation from around the world will be featured with two of them namely "Ping Pong" and "Solar Mama" as Asian and Hong Kong premiere.
Voices Concert
29 September, 3-6 p.m. PolyU campus
Local bands Rubberband, KOLOR, Sensi Lion, MastaMic, Juicyning and a group of talented local street performers will express social engagement through their original songs.
【Public Lectures】
Thinkers Lecture
28 September, 10:30 a.m. - 12:30 p.m., Jockey Club Innovation Tower
"What is social innovation?" and "What social innovation has been and could be for Hong Kong?" Matthew Turner, J.C.DISI's first Thinker-in-residence and one of the few Asian design historians, will answer this question in a public "lecture-performance".
The Happy Summit
28 September, 2:30 – 6:30 p.m., Jockey Club Innovation Tower
"How have you changed the city?" Renowned speakers including Mr Soichiro Takashima, Mayor of Fukuoka, Japan; Mr Jason Chih-chiang Hu, Mayor of Taichung, Taiwan; and Mr John Thackara, Founder and Director of The Doors of Perception are invited to share the steps they have taken to enliven a city, and what needs to be done or they would have done otherwise in relation to a vision for the future.
【Workshops】
Social Enterprises Clinic
4 October, 2 – 6 p.m. Jockey Club Innovation Tower
A panel of consultants made up of seasoned entrepreneurs and branding consultants will offer on the spot advice to social enterprises to help improve the state of their businesses and scale up their operations.
Engaging workshops
27 September – 6 October, PolyU campus
With the support of NGOs and led by young designers, more than 35 upcycling workshops like dyeing handkerchief with onion skins, making portable speaker from a reclaimed plastic bottle, using soda can bottom and leather for small bag or pouch, will be organized during the Festival.
Professor Cees de Bont, Dean of PolyU School of Design and Chairman of J.C. DISI Management Committee, remarked, "The role of design has been changing with the times, from a business-led industrial approach to one embracing a social purpose in addition to serving the economy. To succeed in social innovation, the key is to observe community needs and apply design methods to drive positive change in society."
He added that quite contrary to the public perception of design, "Social Innovation" is new in the sense that collaborations can take place across disciplines. Against this background, the J.C. DISI is established to tap on the idea of bottom-up collective intelligence and devise creative yet practical solutions for social good.
Mr Alvin Yip, Director of J.C. DISI, said, "As its name implies, Social Innovation means 'innovation in society'. We believe that the collective, cross-discipline and co-experiment spirit of social innovation can be upheld by everyone in the society. The establishment of J.C. DISI and this annual event will open the door for more cross-disciplinary collaborations and engage both the public sector and members of the public for more interactive innovations."
J.C. DISI is also thankful for the ardent support of the following event partners: Royal College of Art, the INDEX: Award of Denmark, organizations funded by Hong Kong Jockey Club Charities Trust, The Hong Kong Council of Social Service, Social Ventures Hong Kong, Hong Kong Red Cross, Senior Citizen Home Safety Association, Christian Zheng Sheng College and various HKSAR government departments. The event would not have been possible without the support of PolyU faculties, departments and units including the Institute of Active Ageing, Faculty of Engineering, Faculty of Humanities, Faculty of Health and Social Sciences.
※About Jockey Club Innovation Tower and J.C. DISI※
Supported by a generous grant from The Hong Kong Jockey Club Charities Trust, the Jockey Club Innovation Tower is a new landmark building on the PolyU campus and the first permanent work of Pritzker Prize-winning architect Ms Zaha Hadid in Hong Kong. Situated on the 12th Floor of the Tower, the Jockey Club Design Institute for Social Innovation (J.C. DISI) is a "governmental, civil, academic and business" network supporting and complementing each other.
*****
10-Day Social Innovation Festival
Date : 27 September – 6 October 2013
Time : 10 a.m. – 8 p.m. (Exhibitions)
Venue : Jockey Club Innovation Tower & Podium level of PolyU campus
Enquiry : 5919 2426 or jcdisi(at)polyu(dot)edu(dot)hk
All programmes are free.
Online registration is on a first come, first served basis.
http://www.10dayfest.hk
Press contact:
Miss Janet Lui
J.C. DISI Associate (Public Communication)
Tel: 9123 7695
Email: j.lui(at)polyu(dot)edu(dot)hk
Miss Sharon Lee
J.C. DISI Project Assistant
Tel: 6156 6196
Email: sharon.leechunman(at)gmail(dot)com