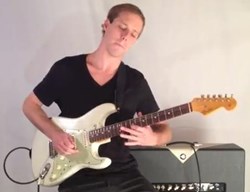 (PRWEB) September 10, 2013
In the lesson, now available on YouTube, MacLennan uses the popular blues pentatonic scale, one of the first scales budding guitarists learn, to teach an advanced technique of bending and "jumping" strings.
To play this bluesy riff, guitarists play a note and bend the string, then release the string to immediately play a lower note, hence the term "jumping" strings. This technique can be heard in many of Hendrix's famous guitar solos, and will help guitarists improvise on their instrument, solo more effectively, and compose original melodies. MacLennan stresses the difficulty of maintaining timing and tone when employing the jumping strings technique, but with practice the technique can be mastered by new and experience guitarists alike. A link in the video description leads guitarists to sheet music and tabulatures for this lesson, so they can practice offline.
The blues guitar lesson also shows how guitarists can play the pentatonic scale and fit other notes into their solos to vary the playing style and sound. By noodling on his guitar, the session musician and GuitarControl.com instructor demonstrates how to fit the jumping strings technique into a broader scope of improvisation and soloing.
Guitar Control instructor Jon McClennan is a Los Angeles based session guitarist and professional music educator. A composer and producer, MacLennan worked as an instructor for the Los Angeles Pierce College Department of Music MacLennan. With a B.A. in ethnomusicology and jazz guitar studies from University of California, he's played guitar and ukele for the hit Fox show Raising Hope; appeared on the Disney series The Suite life of Zach and Cody; and composed, arranged, and produced three full length albums of his own.
GuitarControl.com is packed with resources, video tutorials and lessons, articles, and affordable DVDs to help new guitarists learn and experienced guitarists master their instruments. Guitarists of any experience level find guitar lessons from instructors with a broad array of music backgrounds and styles - blues, jazz, metal, classical, folk, progressive rock, punk, and everything in between. Guitarists can find relatable, easy-to- follow videos regardless of their ability or musical tastes.