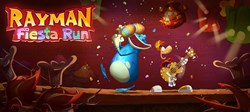 San Francisco, CA (PRWEB) September 10, 2013
Today, at its Digital Days event, Ubisoft proudly announced that legendary platforming hero, Rayman, will be back this fall on smartphones and tablets in a brand new adventure, Rayman Fiesta Run.
Following the success of Rayman Jungle Run, winner of the App Store's BEST of 2012, Rayman Fiesta Run will introduce players to a new wacky Fiesta world. Gamers will lunge for cocktail umbrellas, leap on limes and punch piñatas in this playful, colorful musical adventure.
Rayman comes equipped with new powers and bonuses to take-on 75 levels in four brand new worlds. Facing epic bosses and new Invasion levels, Rayman Fiesta Run is fun for everyone to pick up and play, all the more since players can now share all their achievements thanks to new social features.
Rayman Fiesta Run puts on the polish, thanks to UBIArt Framework enhancements for in-game environments. UBIArt Framework is the same engine that brought players Rayman Legends and will soon allow players to discover new adventures with Child of Light and Valiant Hearts.
For more information on Rayman Fiesta Run, please visit: https://www.facebook.com/rayman
About Ubisoft:
Ubisoft is a leading producer, publisher and distributor of interactive entertainment products worldwide and has grown considerably through a strong and diversified lineup of products and partnerships. Ubisoft has offices in 29 countries and has sales in more than 55 countries around the globe. It is committed to delivering high-quality, cutting-edge video game titles to consumers. For the 2012-13 fiscal year Ubisoft generated sales of €1,256 million. To learn more, please visit http://www.ubisoftgroup.com
© 2013 Ubisoft Entertainment. All Rights Reserved. Rayman, Rayman Fiesta Run, the character of Rayman, Ubisoft, Ubi.com, and the Ubisoft logo are trademarks of Ubisoft Entertainment in the U.S. and/or other countries.
Contact:
Kimberly Kaspar
kimberly.kaspar(at)ubisoft(dot)com
415-293-2096