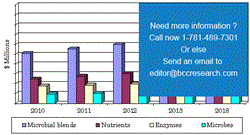 Wellesley, MA (PRWEB) September 11, 2013
According to a new technical market research report, Environmental Markets for Biotechnology from BCC Research (http://www.bccresearch.com), the U.S. market for environmental biotechnology products was valued at $241.2 million in 2012 and is expected to reach $261.9 million by 2013. BCC Research projects the market to reach nearly $382.3 million by 2018, and register a compound annual growth rate (CAGR) of 7.9%.
Municipal and industrial wastewater treatment facilities are generating volumes of wastewater at unprecedented levels. Companies, water authorities, and other end users need cost-effective and efficient means of treating these waste streams. Environmental biotechnology solutions can treat both organic and toxic wastes found at contaminated sites across the country and worldwide without negatively impacting the environment. Waste treatment applications, such as animal waste, grease traps, biofilters for odor control, composting operations, and septic tank treatments present excellent market opportunities for effective environmental bioproducts.
Biotechnology promises to offer less expensive solutions for environmental management through natural microorganism, enzyme, and supplemental nutrient products along with new developments in biotechnology, including the production of biofuels derived from biotreatment of wastes. Biotechnology also has a promising future and can help in meeting energy demands with microbial products and the conversion of waste into raw products and processes for biofuel production.
Markets for environmental biotechnology products are well positioned for expansion. Much of this growth will be due to sales within the U.S., but enormous potential in overseas markets will remain through the next decade for manufacturers willing to take initiatives and risks associated with doing business on a global scale.
This report provides a comprehensive overview of the current and forecasted market from 2013 through 2018 for environmental biotechnology products and their use in a variety of waste treatment markets. The report includes a profile study of major manufacturers and reviews the various application markets for environmental biotechnology products. The study also examines government regulations, patents, and research and development activities to explain how the market dynamics of environmental management affect future product sales.
This new report from BCC Research is intended for companies that manufacture and distribute environmental biotechnology products including microorganisms, enzymes, and nutrients, as well as those involved in the management and operations of municipal and industrial wastewater treatment. Consultants, engineering contractors, project managers, government personnel, banks, legislators, and real estate developers will also find this report beneficial.