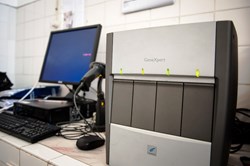 Will help halt spread of drug-resistant TB and save 62,000 lives
Yangon (PRWEB UK) 10 September 2013
UNITAID and the World Health Organization (WHO) have started the largest roll-out of GeneXpert®, state-of-the-art test machines for tuberculosis (TB) that shorten the time to diagnose drug-resistant strains of TB from weeks to only a few hours. By allowing health workers to quickly diagnose drug resistant TB and put patients immediately on treatment, GeneXpert® devices can help halt the spread of this deadly form of the airborne disease.
UNITAID has invested US$ 25.9 million to purchase over 220 GeneXpert® machines and 1.4 million test cartridges for 21 countries in Africa, Eastern Europe and Asia (1). Co-ordinated by WHO and the Stop TB Partnership, this project – known as TBXpert– is estimated to save an additional 62,000 lives.
Until recently, the high cost of GeneXpert® TB cartridges was a barrier to the test's introduction in low and middle-income countries. Thanks to an agreement UNITAID finalized a year ago with the device's manufacturer Cepheid, 145 countries – including all 21 in the TBXpert Project – are now benefitting from a 40% price reduction on cartridges. Results now show that the reduced prices have helped to achieve cost savings of more than US$ 15 million globally.
This global price reduction has allowed even countries not directly supported by UNITAID, like South Africa, to test more people with the same money. The US President's Emergency Plan for AIDS Relief (PEPFAR), the United States Agency for International Development (USAID), and the Bill & Melinda Gates Foundation joined UNITAID in negotiating this price reduction.
The GeneXpert® machine provides the platform for the test recommended by WHO for the initial diagnosis of people with suspected drug-resistant TB and for all people living with HIV in whom TB is presumed. The test is highly-accurate, users require minimal training and results are available to health workers within two hours.
Until recently, the only technique available to most laboratories in developing countries is over a century-old and involves detecting the bacteria using a microscope. Testing for MDR-TB requires another cumbersome method: growing the bacteria in laboratory cultures, a process that can take months and requires extensive infrastructure. During this time period, drug-resistant strains can be spread from person-to-person, often in families living in close quarters.
TB is also difficult to detect with traditional technologies in children and people living with HIV, as they tend to have low levels of TB bacteria in their sputum. GeneXpert® machines detect resistance to rifampicin, one of the most commonly used first-line antibiotics for the treatment of TB and can also detect TB in patients that are co‑infected with HIV.
(1) Bangladesh, Belarus, Cambodia, Congo, Ethiopia, India, Indonesia, Kenya, Kyrgyzstan, Malawi, Mozambique, Myanmar, Nepal, Pakistan, Philippines, Moldova, Swaziland, Uganda, United Republic of Tanzania, Uzbekistan and Vietnam.
http://www.unitaid.org/en/resources/press-centre/releases/1266-largest-ever-roll-out-of-genexpert-rapid-tb-test-machines