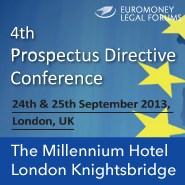 Very insightful views expressed about the likely approach of the authorities, led by experienced observers of the market.
(PRWEB UK) 11 September 2013
Are you fully up to date with all the latest developments on the Prospectus Directive?
The 4th Annual Prospectus Directive conference is a key forum for regulators, issuers and intermediaries and their advisors to come together to share knowledge, updates and information on how the revised prospectus regime is working in practice.
Amendments to the Prospectus Directive, introduced in July 2012, are now starting to impact on the market. Significant changes were made to how prospectuses are prepared and used, aiming to lighten the legislative load and ease access to the capital markets for SMEs. But have they achieved this goal?
Many questions remain around the implementation of the new regime. What is the approach of different national competent authorities in interpreting the Directive's requirements? What guidance is coming from the EU and ESMA on outstanding questions around final terms, summaries, supplements, disclosure issues and more?
You will hear from national and European regulators, as well as leading players in the debt and equity issuance markets who will share their expert know and experience on issues including:

How are competent authorities interpreting the Directive's requirements? To what extent
are inconsistencies being resolved?
What should issuers understand by 'easily analyzable and comprehensible'? What
guidance are national authorities giving on this critical requirement?
What can and cannot be included in final terms or the base prospectus?
What triggers the requirement for a supplement?
How should issuers differentiate between 'key' and 'material' risks for summaries?
What are the latest requirements for tax disclosure?
To find out more, please contact Lavina Advani from Euromoney Legal Forms at ladvani(at)euromoneyplc(dot)com.
Euromoney Legal Forums is part of Euromoney Legal Training. Euromoney Legal Training is the leading legal training provider of high quality, practical training across the UK, Europe, Middle East & Africa. Since 1991, over 20,000 lawyers, bankers, and other professionals, from the world's major banks (and other financial institutions), companies, government bodies (both national and international), and law firms, have benefited from our expertise.