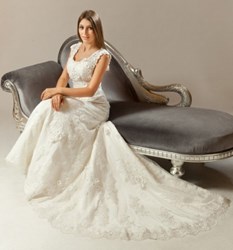 The plus size wedding dresses from InWeddingDress.com are specially designed with the trendy designs, quality materials and fine tailoring.
(PRWEB) September 12, 2013
At InWeddingDress.com, the mission is to provide brides the ultimate fashion. Being able to show off beauty and style in the right way is something that every woman wants to be able to do perfectly as a plus size bride.However, plus size brides always seem to have a challenge of finding the right wedding dress styles and the right sizes that accentuate their curves. InWeddingDress.com offers full-figured brides a chance to get the perfect wedding gowns. There will be no more impersonal big box stores, no more trying to squeeze into a small size and no more tears brought on by bitter disappointment.
InWeddingDress.com presents its exclusive plus size wedding dresses, offering trendy and informal wedding dress styles in plus sizes from 14W to 26W. For super plus sizes from 28W to 32W, their featured custom alterations service provides the best solution. They have super plus size options to suit brides in any size. Not only for wedding dresses, custom alteration service is also available for plus size bridesmaid dresses, plus size mother of the bride dresses and plus size prom dresses.
They give plus size bridal gowns the quality and attention that come from years of experience and a strong understanding of customers. Plus size wedding dresses are designed with the finest materials and specially proportioned to plus size models, so they fit, feel and look spectacular. No matter what the body type is, their experts will help customers find the right wedding dress to make brides look fabulous on their special day.
"We are excited to release this collection. We are here to announce that we will be offering our best designs and services to all of the people at affordable prices. It is important to expand our online market share through such an update as well," said Helen Wang, CEO of the company. "We have much experience in the fashion industry, and those who want to buy plus size wedding dresses should contact with us as soon as possible."
The plus size wedding dresses from InWeddingDress.com are specially designed with trendy designs, quality materials and fine tailoring.These dresses are also ideal for maternity brides. These dresses follow fashion trends while staying true to classic and unique taste and style. As a pioneer in the industry, InWeddingDress.com ensures that every bride can have an elegant look when she wears any of their dresses.
About InWeddingDress.com
InWeddingDress.com is a distinguished online wedding dress retailer, offering a wide range of wedding dresses, bridesmaid dresses, evening dresses, mother of the bride dresses, flower girl dresses, and more. The company aims to deliver women worldwide all kinds of dresses at affordable prices.
For more information or advice, please visit: http://www.inweddingdress.com/.