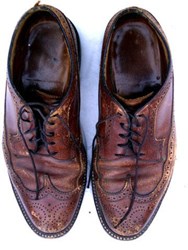 When you compare this to a high street repair using synthetic soles, or shelling out for a new pair all you can do is smile and look forward to clocking up the miles in your refurbished Loakes.
Kelso, Scottish Borders (PRWEB UK) 18 September 2013
A Hume, the UK's leading online country clothing retailer, gives an insight into the life of the average pair of Loake brogues and reveal the secret to longer shoe life.
For over 80 years A Hume have sold the finest brands in country clothing. Loake shoes remain one of their key brands and their refurbishment service is the perfect solution for brogues that have seen better days.
The day arrives in every man's life when he has to step up – and out of his skanky old trainers - when he realises that the joys of a misspent youth cannot go on forever and it's around this time that wise men invest in their first pair of Loakes classic English brogues: a proper pair of shoes in which to negotiate the world with added confidence.
Loake shoes can and do walk many thousands of men safely, comfortably and stylishly through life, looking good with suit, jeans, chinos and tweed, year after year. But eventually even the most well crafted shoes are going to show a bit of wear and tear.
All manner of hazards await the unwitting brogue. If they belong to the average British male the catalogue of likely wounds will look something like this:

Dubious pub related staining.
Welts, scratches and divets incurred by armies of merciless women (believed to be dancing) trampling across male feet in dimly lit clubs.
A faint damp odour acquired after years of the unremittingly soggy British climate.
A certain mottled, lined appearance from lying at the bottom of a box, forgotten in the garage for three years after moving home.
Salt damage owing to over-zealous gritting during the harsh winters of 2009/10 and 2010/11.
Small indentations representing teeth marks belonging to teething puppies.
An upward tilt to the toecap resembling the smiling upper lip on a comedy horse achieved through years of loyal service.
Thankfully there is good news. A new service from A Hume can have your Loake shoes restored to brand spanking new.
For a meager £65, inclusive of return UK postage and VAT A Hume will send your Loake shoes back to the factory for re-soling on the original last. This service also includes new soles and heels, fitting new seat socks and re-finishing the upper part of the shoes.
MD Archie Hume said: "When you compare this to a high street repair using synthetic soles, or shelling out for a new pair all you can do is smile and look forward to clocking up the miles in your refurbished Loakes."
About A Hume
Founded in 1929, A Hume Country Clothing sell traditional clothes with a contemporary twist, locally in the Scottish Borders from their Kelso shops in The Square and Horsemarket, and also online worldwide to over 20,000 customers at http://www.ahume.co.uk