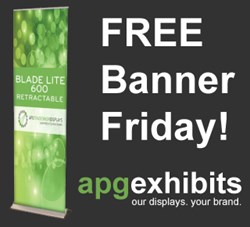 "With trade show season upon us, we think it's the perfect time to give a little something back to our client base" says Baron, "as well as provide the opportunity for new clients to have the APG experience at no cost to them."
Grayslake, IL (PRWEB) September 10, 2013
Due to an overwhelming response to the first two weeks of the contest, APG Exhibits (recently rebranded from APG Trade Show Displays), is furthering its efforts to reward customers by offering a chance to win a premium, best-selling banner stand, free of charge. The fledgling-yet-popular promotion, appropriately named "Free Banner Friday", can be taken advantage of in just seconds by using a short form on APG Exhibits' web page. A winner is chosen randomly every Friday and announced via APG's Facebook page. This week, the company is giving away the Blade Lite 600 Retractable Banner Stand, a $140 value and one of the top banner stands in the industry.
APG Exhibits' President Matt Baron explains the switch to a more premium product, "The volume of entries we received during the first two weeks of the contest was completely unexpected, so we have decided to 'up the ante' a little bit. We have the best clients in the world and we want them to know how much they're appreciated."
This is just the third week of the contest, but it has already increased APG's online customer interaction by a significant degree. Those interested are able to enter once a week, with winners being announced on the APG Exhibits Facebook page (separate emails are also sent to the winners as confirmation).
Baron feels that the contest will only become more popular with time, allowing APG to give away products that are more and more premium. "With trade show season upon us, we think it's the perfect time to give a little something back to our client base," says Baron, "as well as provide the opportunity for new clients to have the APG experience at no cost to them."
For more information about APG Exhibits or their recent banner givaway promotion, please contact APG Exhibits at 866-752-2192, or use the email link provided.
APG Exhibits is a premier online provider of trade show displays, outdoor exhibits, custom exhibits, pop up tents, custom banners and more. APG Exhibits' mission is to provide high-quality trade show display products and outstanding customer service at the guaranteed lowest prices. Contact Customer Support at 866-752-2192 or visit apgexhibits.com for more information.