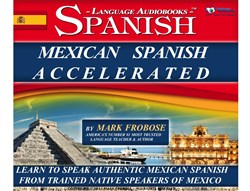 Mexican Spanish Accelerated teaches anyone to speak the most colorful and important form of Spanish in the world; Mexican Spanish.
Mark Frobose/President
Language Audiobooks Inc.
Champaign, IL (PRWEB) September 12, 2013
Andale. Arriba. Mexican words we hear almost every day in America make us think that the language of Mexico and the language of Spain are two entirely different entities.
"No so rapido," says Mark Frobose, founder of Language Audiobooks Inc., and the creator of Amazon.com's bestselling Mexican Spanish Accelerated.
Mark Frobose, who has authored more foreign language programs than any living person in America explains that Mexico has more Spanish speakers than any country in the world, and Mexican Spanish is by far the most important form of Spanish spoken today in the United States and in the world.
"The truth is that a reasonably educated native speaker in Mexico can communicate perfectly with Spanish speakers from Spain and Latin America, with a few glitches in accent and regional words," Mexican Spanish Accelerated author Mark Frobose explains.
"This means that Mexican Spanish, while colorful and unique, is not really a dialect, and is basically the same as standard Spanish, with the exception of some regional words and accents," he concludes.
Mexican Spanish Accelerated is available on Amazon.com in CD form and on Audible.com as a download. Spanish aficionados may also order directly from Mark's website and receive free language learning tips and audio lessons.