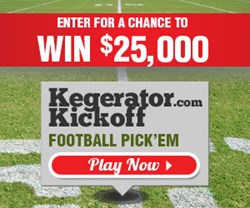 Austin, TX (PRWEB) September 12, 2013
Football season is officially here and Kegerator.com wants to help celebrate with their new football pickem contest. There are loads of prizes up to grabs ranging from a mini-kegerator to a grand prize of $25,000.
This contest is a chance to show professional football knowledge. Simply choose the winning teams on a weekly basis and Kegerator.com will give away a ton of free prizes. Take on family, friends, co-workers, and complete strangers to find out who reigns supreme.
Fred Hopkins, Online Marketing Manager, states, "It is hard to identify a more anticipated time of the sporting year than the beginning of football seasons. Nothing is better than getting together with friends and family to watch the big game, eat some great food, and of course enjoy your favorite beers. We wanted to make this football season a little more rewarding for football fans everywhere."
Hopkins went on to say, "We, at Kegerator.com, decided the best way to say thanks to our customers and make football season more exciting was to hold our very own pickem contest. Every week participants will try to predict the outcomes of NFL games. At any point in the season, someone could walk away with $25,000. There will be tons of other prizes as well. It shouldn't be surprising that everyone at Kegerator.com wanted to give away a few mini-kegerators as well."
The pickem contest is designed to be the perfect way to say thanks to all of their loyal customers, but almost anyone is welcome to join.
Pickem games comes in many shapes and sizes so make sure to visit the Kegerator.com website for more information about these years NFL Pickem contest highlighted with a grand prize of $25,000. Numerous other prizes are available to top contestants including a fantastic mini-kegerator. Certain restrictions may apply.
Kegerator.com is a website owned and managed by the Living Direct family. Be sure to visit their blog at http://blog.kegerator.com or follow them on Facebook and Twitter to discover more about their amazing products, discounts, and giveaways.