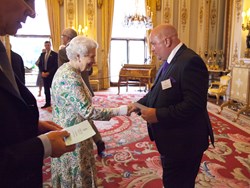 Simon Neal, Director of Data Centre Services at The Bunker, said: 'I'm delighted Voipfone has won this prestigious award, it's just one in a long list of well-deserved awards.'
(PRWEB UK) 11 September 2013
The Bunker's customer Voipfone, a pioneering telephony company, has recently won the nation's highest business accolade - The 2013 Queen's Awards for Enterprise 'Innovation category'. The award follows the latest in a long line of recognitions for the ground-breaking company founded in 2004 by Colin Duffy and Lee Rose.
Voipfone is a fast growing, profitable and successful company which, since 2012, has won virtually every award open to a telephony company – including one never given before to any telephone company, the Institute of Customer Services, Customer Focus Award.
The Bunker provides Voipfone with reliable, Ultra Secure Colocation for a fully cloned Voipfone network solution from its Kent data centre. Voipfone duplicated and expanded its entire network, enabling it to provide a vital, robust, secure, real-time virtual phone system to its customers whose businesses are reliant on an uninterrupted service.
Simon Neal, Director of Data Centre Services at The Bunker, said: "I'm delighted Voipfone has won this prestigious award; it's just one in a long list of well-deserved awards. This latest recognition is a real testament to their commitment in providing trustworthy, virtual telephone systems to small businesses who, just like large organisations, demand the same high level of service but at a fraction of the cost."
About The Bunker
The Bunker provides Ultra Secure Cloud, Hosting, Colocation and IT Services from within the UK's most secure facilities, outside the M25 yet within easy reach of London.
At The Bunker, we put security first and keep some of the most demanding businesses Ultra Secure and available.
Both our data centres are former nuclear bunkers, upgraded with millions of pounds of investment in networking infrastructure, fire suppression, power and cooling.
We have a culture built on security - we call it The Bunker ProtocolTM, which incorporates physical, human and digital security processes. Combining all three elements is the only way to ensure your data is Ultra Secure against the variety of today's threats.
It's an environment that keeps businesses safe. From power outages, hacker attacks, malware, spyware, and computer viruses, to flooding, extreme weather conditions or terrorist threats, our unique approach to security covers all aspects to keep your data safe.
For more information, visit http://www.thebunker.net.
Email: marketingteam(at)thebunker(dot)net
Follow The Bunker on Twitter: https://twitter.com/_TheBunker
Connect with The Bunker on LinkedIn: http://www.linkedin.com/company/the-bunker-secure-hosting
About Voipfone
Voipfone is an Internet telephone service provided by iNet Telecoms Ltd, a London-based company which was formed to develop the latest voice over Internet technologies. It offers web-based, self-service and low-cost, high-quality services that have more advanced features than the old public switched telephone network (PSTN).
For more information about Voipfone, visit http://www.voipfone.co.uk.
VoIP (Voice over Internet Protocol) is a way of making telephone calls over the internet without needing to use the traditional telephone networks. Calls to other users of this technology are free, no matter where the caller and called party are in the world. Winners of Best Business VoIP Provider - ITSPA Awards 3 years in a row.
For further information please contact:
Michaela Pettitt
iNet Telecoms Ltd (Voipfone)
Tel: 0044 (0)2070432030
Email: pressoffice(at)voipfone(dot)co(dot)uk
Site: http://www.voipfone.co.uk