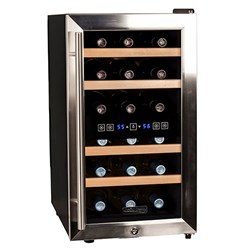 Austin, TX (PRWEB) September 12, 2013
WineCoolerDirect.com has announced its latest giveaway – a wine cooler. Over the past several years, wine refrigerators have become a popular item among wine enthusiasts and casual wine drinkers but most people don't really know what a wine cooler is or how they could use it. In conjunction with the giveaway, WineCoolerDirect.com is launching an informational campaign highlighting the potential uses and benefits of having one of these products in the home.
Kari Hall states, "After listening to the feedback from customers who have purchased wine refrigerators from us in the past, we were surprised how many of them didn't truly understand the benefits they could gain until they started using their wine cooler. We feel the easiest way to raise awareness about the benefits of owning a wine refrigerator is giving one away for free."
Hall went on to outline some of the common benefits previous customers reported after using their new wine refrigerator for a few months.

A Dedicated Space for Wine
The most common benefit reported by previous customers was how much easier it is to stock and store wine once they had a dedicated space for it. It is difficult for the average person to set aside a large chunk of space in their refrigerator for wine which is why a wine cooler is a simple and effective solution."
Inexpensive Alternative to Wine Cellars with the Same Benefits
Another popular benefits reported by customers is a wine cooler is an inexpensive alternative to building a wine cellar. This makes it an ideal solution for anyone who is just starting to enjoy wine or simply doesn't have the funds or space for a built-in solution. While an in-home wine refrigerator isn't as large as a wine cellar, it offers all of the same advantages. It eliminates the threat of natural light, limits vibration, and provides a constant temperature.
Since wine coolers are relatively small and easy to move, they are perfect for any size of home or apartment. Plus, they are easy to move which makes them an extremely versatile solution.
Go to the WineCoolerDirect.com website for more information about the wine cooler giveaway. Certain restrictions may apply.
WineCoolerDirect.com is a website owned and managed by the Living Direct family. Visit the their blog at http://blog.winecoolerdirect.com. You can also follow them on Facebook and Twitter to discover more about their amazing products, discounts, and giveaways.