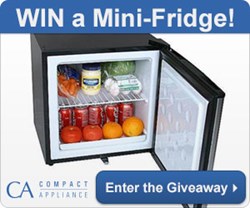 Austin, TX (PRWEB) September 12, 2013
To celebrate the end of summer and kickoff the fall festivities, Compact Appliance is giving away a convertible refrigerator/freezer. This stand-alone unit features a temperature control that allows users to quickly switch from fridge to freezer.
Convertible refrigerators/freezers have grown increasingly popular over the years, especially for people living in apartments, college dorms, and for use in a garage or den. It is the perfect way to save space because it can act as a refrigerator or freezer depending upon the temperature settings. The customizable rack design makes it easy to fit all types of foods and beverages in the unit with minimal hassle.
Kara Zorn states, "We wanted to have a little fun now that the back to school rush is behind us. Choosing the right item to giveaway wasn't easy, but we believe that many of our customers have a need for a small refrigerator/freezer."

The Convertible Freezer/Refrigerator Embodies Flexibility
"One of the key characteristics we look for at Compact Appliance when we are deciding what products to keep in stock is flexibility and versatility. The easiest way to maximize space savings is by using tools and appliances that are versatile. The more opportunity every square foot inside a home can offer, the easier it is to get the functionality customers want without feeling cramped. There is no reason to waste valuable space on a freezer or refrigerator if it isn't being used. The convertible refrigerator/freezer lets customers use it how they want, when they want, and for whatever they want."
A Convertible Freezer/Refrigerator Emphasizes Value
"Another reason why we chose the convertible freezer/refrigerator is because it emphasizes value. Not only does it save space, which is a key characteristic, but it allows customers to purchase a single appliance which can be used in multiple ways. The versatility and low-cost of a convertible freezer/refrigerator makes it one of our most popular value-purchases."
Go to Compact Appliance for more information about the convertible freezer/refrigerator giveaway. Certain restrictions may apply.
Compact Appliance is a website owned and managed by the Living Direct family. You can also visit them at their blog - http://blog.compactappliance.com.