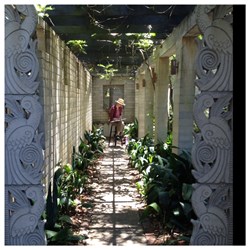 "Working in such an idyllic setting and being so directly connected to the day-to-day routines as well as the unpredictability of the natural world has provided rich and complex painting material."
- Josette Urso, A&H Artist-In-Residence
Maitland, FL (PRWEB) September 12, 2013
"Working in such an idyllic setting and being so directly connected to the day-to-day routines as well as the unpredictability of the natural world has provided rich and complex painting material."

Josette Urso, A & H Artist-In-Residence
The Art & History Museums – Maitland (A&H) announces a call for entries for their Artist-In-Residence Program.
The program honors the legacy of founder J. André Smith, and the 75th anniversary of the Research Studio's (now the Art & History Museums – Maitland) first Bok Fellow. This is the first formal, nationally competitive residency program at the A&H since Smith's fellowship program, which was funded by Mary Curtis Bok.
"Our Residency program celebrates the A&H's Maitland Art Center's legacy as a place where artists can live and work in an inspiring architectural environment with opportunities for artistic collaboration and experimentation," says Andrea Bailey Cox, Executive Director & CEO.
The Research Studio, founded in 1937 by visionary artist and architect J. André Smith (1880-1959), hosted artists of national prominence, including Milton Avery, Ralston Crawford, Doris Lee, Boris Margo and Teng Chiu. The A&H is honoring this legacy with the reestablishment of the Artist-In-Residence program, which was implemented in 2013 with the first Artist-In-Residence, Josette Urso.
Several residencies are offered throughout the year, with selected artists working and living at the A&H's Maitland Art Center one at a time for a period of three, six or nine weeks. The Artist-In-Residence will live in founder André Smith's original residence and work in a studio on campus.
Who will be chosen?
The A&H is looking for U.S artists who are motivated, talented and resourceful. With regard to the A&H's mission and available studio space, the program is focused on supporting artists of traditional mediums (painting, drawing, pottery, printmaking and small scale sculpture).
What will we give you?
The A&H Artist-In-Residence program offers an unparalleled architectural environment with opportunities for seclusion, research, collaboration and contemplation. The residency will cover all room costs and a stipend will be provided based on the length or your stay. Stipends: 3 week residency = $500, 6 week residency = $1,000, 9 week residency = $1,500. The Artist-In-Residence also will receive a one-person exhibition to be scheduled within two years at the A&H's Maitland Art Center galleries.
What will we expect in return?
Depending on the residency length, artists will be asked to interact on varying levels with local artists and the public. Artists are encouraged to be creative in their interaction with the public and to collaborate with other artists on campus (A&H's Artists-In-Action, art school faculty and students).
Mail or email applications to:
Rebecca Sexton Larson, Curator of Art and Director of Education
Art & History Museums – Maitland
231 W. Packwood Ave.
Maitland, FL 32751
Rebecca(at)artandhistory(dot)org
For additional information, visit http://www.ArtandHistory.org, or phone 407-539-2181.
About the Art & History Museums - Maitland:
The Art & History Museums – Maitland (A&H) is a premier Central Florida cultural institution and community gathering place, combining the best of both art and history. Its unique architecture, beautiful gardens, quality exhibits and programming, and two sites listed on the National Register of Historic Places make it a must visit cultural destination. Our museums offer unparalleled opportunities for enrichment and inspiration. Programming includes art classes and workshops, hands-on history programs, interactive exhibits, professional artists working in their studios, and much more. Our two campuses include a 1937 artists' colony with Aztec and Mayan architectural influences, a Victorian house museum, a working antique tool museum, an interactive telephone museum, and a local history museum. There is something for everyone and each experience is well worth the trip.