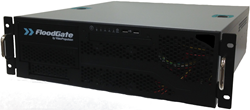 The highest performance transcoding hardware at the lowest possible cost.
Amsterdam, Netherlands (PRWEB) September 12, 2013
VideoPropulsion® Interactive Television (OTC:"VPTV") will announce its newest, high density, bulk MPEG streaming transcoder at the 2013 International Broadcasters Convention (IBC2013) held at RAI this week.
The FG-5000 "Hailstorm™", newest of VideoPropulsion's FloodGate® family of digital video transcoding appliances, can transcode, transrate, and transshape a total of as few as 8 and up to 168 HD and/or SD MPEG2 or MPEG4 streams in a 3U rack-mount unit at the lowest cost per stream in the industry. Remotely managed by either an HTML GUI or a socket API, the FG-5000 offers customers a highly scalable, flexible solution to their adaptive bit rate and re-formatting needs.
A forthcoming, real-time cloud service will be based on arrays of web accessible Hailstorm transcoders, which will allow a single broadcast quality MPEG2 or MPEG4 stream to be simultaneously transcoded into dozens of different formats. The Company believes that this web accessible resource will allow small content providers, cable/telco operators, government and educational institutions, and others to affordably translate their streaming studio assets into numerous wireless broadcast forms at various bit rates without a capital investment.
"We are very proud of our achievement in continuing to deliver the highest performance transcoding hardware at the lowest possible price," remarked Carl Pick, VideoPropulsion CEO. "Whether it's MPEG4 satellite to MPEG2 edge infrastructure, or broadcast quality to mobile, our Hailstorm will provide the most cost effective solution."
FG-5000 Hailstorm transcoders will be available for shipment this month.
About FloodGate
FloodGate appliances from VideoPropulsion bring hospitality HDTV programming from satellite, and cable television MSOs to a variety of hospitality markets and support distribution via RF (coax), IPTV (Ethernet), or wireless (mobile) infrastructures. All FloodGate models automatically encrypt HD channels to meet Hollywood's strict requirements for content protection using standard technologies readily available from commercial hospitality television set and mobile device manufacturers. FloodGate systems can co-exist with most pay-per-view and video on demand systems currently deployed.
About VideoPropulsion
For nearly 40 years, VideoPropulsion has been a world leader in hardware and software for high performance, low cost per stream, digital content manipulation, and has established a reputation for providing unique HDTV, VoD, and IPTV products. The Company offers revolutionary FloodGate satellite and CATV transcryption appliances as well as OEM computer modules for a variety of applications, including streaming, multiplexing, demultiplexing, modulation, demodulation, transcoding, encryption, and splicing MPEG formatted data.
For further information, contact:
Kathy Cain
Vice President of Sales
VideoPropulsion
255 Info Highway
Slinger, WI 53086
(303) 810-8255
sales(at)videopropulsion(dot)com
http://www.videopropulsion.com
VideoPropulsion and FloodGate are registered trademarks, and Hailstorm is a trademark of VideoPropulsion Interactive Television, Inc.