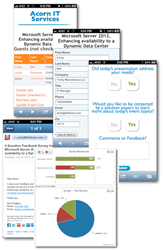 "While running an event, their clients can assess which attendees are engaged, need more information or are ready to buy. That's a game changer..." Andy Meadows, CEO 44Doors.
Austin, Texas (PRWEB) September 17, 2013
44Doors eclipses 1,200 events managed through its Captix™ SaaS platform within one year of launching Captix™ Events, a game changing mobile event management solution. By enhancing its portfolio of mobile audience insight solutions with Captix™ Events, 44Doors delivers a solution that recognizes, meets and exceeds the technological demands of the growing experiential marketing industry. In partnering with EventPro Strategies (EPS), 44Doors adds the experiential marketing industry leader to its extensive client list of brand leaders including Coca-Cola, Aetna and Bank of America.
From mobile lead capture and attendee check-in platforms to real time data interfaces for immediate follow-up, event monitoring, and customized reporting, the Captix™ SaaS platform gives clients capabilities that open doors to a new way of executing experiential marketing events. "The way we utilize 44Doors technology has developed into a proprietary methodology," says Elyse Boule, EPS Vice President of Strategic Growth. "We have applied our 13 years of event staffing and experiential marketing expertise to 44Doors' solutions in a way that is truly unique. These tools provide our clients with possibilities for increased efficiencies and enhanced, immediate results that they can't get anywhere else."
44Doors provides an integrated suite of software solutions, in-the-moment analytics, and strategy designed to "Turn Vision into Vantage". Andy Meadows, 44Doors CEO, emphasized that "Through our Captix™ platform, EventPro Strategies is able to drive more quantifiable value for their clients' marketing and event programs by providing immediate insight into campaign effectiveness with real-time opportunity to adjust and grow. While running an event, their clients can assess which attendees are engaged, need more information or are ready to buy. That's a game changer for the experiential marketing industry as it gives marketing teams a faster and direct path to driving sales. "
44Doors' integrated marketing suite of SMS, email, website, short URLs, and QR code management tools provide comprehensive capabilities that work to remove the 'technology barrier', making recent advances in mobile engagement and measurement available to all levels of marketing.
ABOUT EVENTPRO STRATEGIES
EventPro Strategies (EPS), headquartered in Scottsdale, AZ, specializes in delivering the right people (aka: Talent) for any event while offering high-impact execution services and technology solutions that move the needle. From street teams and guerilla marketing to PR stunts and mobile tours, since 1999 EPS has been partnering with marketing agencies and Fortune 500 brands throughout the US & Canada to execute experiential marketing campaigns. EPS also provides unique and client-tailored execution tools which enhance program logistics, project management, and measurement and technology to drive program results and ROI. For more information about EventPro Strategies, please visit http://www.eventprostrategies.com.
About 44Doors
44Doors is the leading technology provider of audience insight and engagement solutions, that help brands, marketing professionals, and agencies drive decision-making by streamlining the collection and connection of consumer interactions. 44Doors' flagship product, Captix™, allows marketers to reach their audiences on personal terms, when and where relevance, convenience and decisions converge. 44Doors helps more than 1,500 clients including The Coca-Cola Company, Bank of America, Dell and Aetna, learn and apply insightful, real-time information by connecting brands with audiences where they work, live and play. For more information, visit http://cptr.it/44DoorsEPS1.