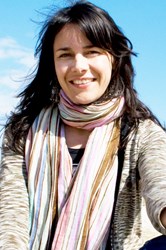 Washington, D.C. (PRWEB) September 11, 2013
Salsa Labs, Inc. (Salsa), creator of the nonprofit platform to grow and engage a base of online support, today announced the addition of a two-part workshop at its annual Salsa Community Conference to be held October 9-10, 2013 in Washington, DC. Designed specifically for director-level nonprofit professionals, the morning workshops will allow participants to interact with presenters in an intimate, hands-on environment.
The first workshop, held on October 9, will begin immediately following keynote speaker Jonah Berger, author of Contagious: Why Things Catch On and assistant professor of marketing at University of Pennsylvania's Wharton School of Business. Berger will focus on how ideas and behaviors catch on and become popular. This theme will continue throughout the workshop, as presenter Jason Mogus, principal strategist at Communicopia, will discuss organizing your digital team for networking in the citizen age.
Following her keynote speech on October 10, storyteller Marianne Elliott will join filmmaker Céline Cousteau and visual storytelling expert Nicole Lampe to discuss the power and practical impact of story in furthering the message of a nonprofit organization, especially in digital channels.
Valued at more than $400 per registrant, the Director's Workshop is being offered at only $175 thanks to generous event sponsors. Spread over two days, the sessions begin at 9 a.m. and conclude at 11:45 a.m. and include a networking breakfast, keynote speeches and strategy discussions. Registration is now available online at http://www.salsalabs.com/directorsonly. Participants should register with the code "Directors Only" and will need to confirm their status as a director-level nonprofit professional.
Featured speakers include:
Céline Cousteau- Cousteau is the founder and executive director of CauseCentric Productions. She collaborates with other nonprofits and individuals to increase their worldwide exposure by creating short documentaries about their work. As a filmmaker, Cousteau created numerous televisions documentaries, which have aired on PBS, CBS, Discovery Channel and more.
Marianne Elliott- Elliott is a storyteller, author and human rights advocate. Trained as a lawyer, she helped develop human rights strategies for the governments of New Zealand and East Timor, worked as Policy Advisor for Oxfam, and spent two years working in human rights in the Gaza Strip prior to her time in Afghanistan, where she served in the United Nations mission (2005-2007). Her memoir Zen Under Fire, tells the story of her work in Afghanistan and the toll that work took on her.
Nicole Lampe- Lampe is the digital strategy director at Resource Media, a nonprofit PR firm that specializes in environment and public health. She helps clients build and run campaigns that connect on a wide range of issues and helps clients evaluate the effectiveness of outreach efforts so they can course correct in real time.
Jason Mogus- Mogus is the principal strategist at Communicopia. He has led digital transformation projects for some of the world's most recognized social change brands. He is a recognized thought leader in the fields of digital strategy, network campaigns, digital teams, and organizational change catalyzed by technology.
Nell Greenberg- Greenberg is the communications director at Rainforest Action Network. As a seasoned storyteller, Greenberg has written on environmental issues and her work has been featured in publications nationwide.
The 2013 Salsa Community Conference will be held October 9-10, 2013 at FHI360 in Washington, D.C. The annual event brings together nonprofit and political campaign managers, development directors, advocates and online outreach leaders in two days of networking, practical application training, technical sessions and more. Review the agenda now. Registration is now available online.
Follow Salsa on Twitter or like them on Facebook.
About Salsa Labs
Salsa Labs (Salsa) helps nonprofits and political campaigns ignite action and fuel change around the world by growing and engaging a base of support online. With Salsa, groups of all sizes can easily organize their supporters and chapters, fundraise, advocate, communicate through email and social media, host events and measure results. Salsa provides more than technology; it offers strategic best practices, training, highly rated support and a strong online community, so its clients can focus their energy on their mission. The company currently empowers more than 2,000 organizations' and their more than 75 million donors, members, activists and fans across the globe. For media information, contact Leah Wilkinson, WilkinsonShein for Salsa, 703-907-0010 or leah(at)wilkinsonshein(dot)com. Visit Salsa online at http://www.SalsaLabs.com.