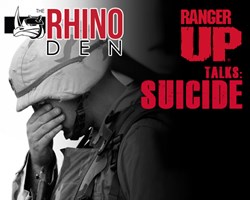 "I have lost friends to suicide, all of our employees have lost friends to suicide, it is time to talk about the red flags and do what we can to prevent it when possible." Ranger Up CEO Nick Palmisciano
Durham, NC (PRWEB) September 11, 2013
United States military veterans are committing suicide at a higher rate than ever before. Even during World War II, when over 8 million Americans were serving in uniform, the suicide rate was lower per capita than it is today. The Rhino Den.com, the award-winning blog of military apparel company Ranger Up, is dedicating this week to the issue that every veteran is too familiar with.
"We chose suicide to be the subject of our first 'Ranger Up Talk' because it affects every veteran on some level yet a stigma remains on the issue that keeps people quiet," said Rob Ulrey, Editor-in-Chief of The Rhino Den. "The best way we can combat this dark force is to educate people and bring it out in the open."
Over seven days the highly trafficked site will post 18 articles intended to raise awareness of military suicide, encourage those at risk to begin talking and to empower others to intervene when warning signs appear. Each of the pieces will be written by verified guest writers of The Rhino Den or staff writers, all with military experience of their own ranging from retired officers to active duty enlisted soldiers.
Veteran-friendly celebrities have even agreed to support and participate in the conversation. Actor Gary Sinise, Comedian Tammy Pescatelli, and Travel Channel hosts Don Wildman and Zak Bagans have taken to social media to help bring public awareness to the cause. Veterans of both the military and the UFC octagon, Mixed Martial Arts fighters Brian Stann, Tim Kennedy, and Jorge Rivera have also been vocally supportive since the series was first conceptualized.
"RhinoDen.com is one of the ways Ranger Up is able to go beyond being an apparel brand and have impact on the lives of active duty military and veterans," said Nick Palmisciano, CEO of Ranger Up. "I have lost friends to suicide, all of our employees have lost friends to suicide, it is time to talk about the red flags and do what we can to prevent it when possible."
The Rhino Den, winner of multiple Milblog awards, has grown traffic to roughly 2.5 million views annually and established itself as one of the leading military blogs in the world. Its content has been featured across the web and in many national publications.
The Ranger Up Talk: Suicide series is featured at http://rhinoden.com and will be updated throughout the week of 9-17 September.
Each part of the series is available at this link: http://rhinoden.rangerup.com/category/ranger-up-talks-suicide/