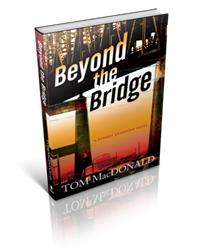 "Beyond the Bridge brightened my day and confirmed Tom MacDonald as a thriller writer to watch." - San Francisco/Sacramento Book Review
Longboat Key, Florida (PRWEB) September 11, 2013
Award-winning Oceanview Publishing author, Tom MacDonald, will be holding talks and book signings in:
Thursday, September 19th
7:00 pm
Thayer Public Library
Washington St.
Braintree, MA
Saturday, September 20th
Speaking at Bouchercon Conference
Albany, NY
Monday, September 30th
6:30 pm
Charlestown Library
179 Main Street
Charlestown, MA
About Beyond the Bridge
Dermot Sparhawk, a former all-American football star at Boston College, returns in Beyond the Bridge, the prequel to Tom MacDonald's award-winning debut novel, The Charlestown Connection.
In Beyond the Bridge, Sparhawk, a struggling alcoholic, agrees to help find the killer of an accused pedophile priest. When two more priests are slain, it becomes evident that it is the work of a sadistic serial killer who crucifies his prey after killing them.
Sparhawk blazes an unconventional trail to the killer that puts him at odds with the very people he is trying to help and initiates a turf war with law enforcement.
He gathers a cadre of unlikely allies, including a parish priest, a police lab criminalist, the district attorney, and a state police lieutenant who help to rebuff attempts to derail him from the case. Then, with the help of his Micmac Indian cousin and his paraplegic tenant and former Boston College teammate, Sparhawk bulldozes his way to the truth, while putting his own life at risk.
Tom's Website Address: http://www.tommacdonaldbooks.com
Oceanview Publishing Website: http://www.oceanviewpub.com