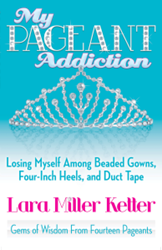 (The author's) descriptions of pageant realities show how much drama takes place both backstage and in contestants' heads.
Tipton, KS (PRWEB) September 11, 2013
Nineteen-year-old Lara Miller could never have imagined that entering the Miss Star Valley Pageant would lead to a four-year addiction in pursuit of a crown. Winning third runner-up in her first pageant just whetted the brunette's appetite for competition – despite having to stand on stage in nothing but a swimsuit and three-inch heels. In this witty new book, the author shares stories – and wisdom -- based on her adventures traveling all over Kansas competing in 14 pageants on the local and state level. She even directed a local pageant for three years until it folded because of declining contestant numbers.
"My Pageant Addiction: Losing Myself Among Beaded Gowns, Four-Inch Heels, and Duct Tape" showcases Ketter's sense of humor with such chapters as "In My Quest for a Crown, I Compared My Thighs to Their Thighs" and "I Constantly Changed My Look and Direction, Resulting in a Bad Case of Dizziness." Ketter's descriptions of the realities of pageants shows how much drama takes place both backstage and in contestants' heads: her first trip wobbling down a pageant runway showing her fanny to one and all; losing confidence when she measures herself against other competitors; and gaining confidence after a pageant veteran shows her a new way to perform.
Although she pokes fun at herself and the other contestants, Ketter also shows a serious side, offering words of caution about letting competition drive self-esteem, and offering advice for those who want to follow in her footsteps. She shares gems of wisdom at the end of each chapter, from basic tips like renting wardrobe pieces and creating rapport with the judges, to being true to yourself and recognizing your strengths. This compelling and honest account of pageants provides a behind-the-scenes resource for women looking for success on the beauty pageant circuit and beyond.
This is the second book for author Lara Miller Ketter, who also wrote "Not This Lifetime, I've Got a Headache!" Ketter grew up in the newspaper business and worked at her parents' four weekly newspapers before and after attending Kansas State University. She earned a degree in communications with a minor in music theater. Ketter wrote a weekly humor column for 10 years for the Down News & Times, blogged about funny farm anecdotes at BarbedandWired.com and has written a column for the quarterly Tipton Times newspaper. She currently blogs on her website, LaraKetter.com. She and her husband live on a farm near Tipton with their three children.
----------
For additional information, please visit http://www.laraketter.net.
My Pageant Addiction: Losing Myself Among Beaded Gowns, Four-Inch Heels, and Duct Tape
Lara Miller Ketter
Dog Ear Publishing
ISBN: 978-1-4575-1935-2
204 pages
$14.95 US
Available at Ingram, Amazon.com, Barnes & Noble and fine bookstores everywhere.
About Dog Ear Publishing, LLC
Dog Ear Publishing offers completely customized self-publishing services for independent authors. We provide cost-effective, fast, and highly profitable services to publish and distribute independently published books. Our book publishing and distribution services reach worldwide. Dog Ear authors retain all rights and complete creative control throughout the entire self-publishing process. Self-publishing services are available globally at http://www.dogearpublishing.net and from our offices in Indianapolis.
Dog Ear Publishing – self-publishing that actually makes sense.