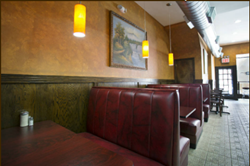 New York, NY (PRWEB) September 10, 2013
Leading restaurant furniture manufacturer and distributor Affordable Seating recently helped Brooklyn, NY restaurant and lounge La Villa Cafe redesign its seating, by giving it a fresh look with new restaurant furniture.
La Villa Café is a landmark restaurant in Brooklyn New York, serving gourmet Spanish and American cuisine. Chef Bruno has over 20 years of experience in the restaurant industry and has brought the culinary gift of gourmet cuisine to downtown Brooklyn. La Villa specializes in gourmet breakfast and the finest authentic, world renowned Latin cuisine at great prices.
"As a venue that brings in a wide variety of customers and experiences heavy traffic throughout the day, La Villa Cafe was looking for restaurant booths and tables that would revitalize its image," Affordable Seating sales representative David explained.
La Villa Cafe decided to go with Affordable Seating's Quick Ship 6 Channel Restaurant Booth which is 48" long and 42" high, and is currently available at the sale price of $220. The Quick Ship booths are available in black and wine. He also went with Reversible Table Tops in mahogany and black finish with black t-mold edge. Affordable Seating also offers these table tops in an oak and walnut finish with a brown t-mold edge, both for only $22. He went with X prong table bases on sale for only $24 at Affordable Seating.
"The Quick Ship 6 Channel Booth and Reversible Table tops were perfect for what the team at La Villa Cafe were looking for," David said. "The quick ship booths are comfortable and functional, with the long-lasting durability and gives customers the privacy they are looking for, and are reputed for their fine craftsmanship. Affordable Seating has a wide selection of dining booths in many shapes, colors and fabrics and can also be custom made in any shape, size or fabric. We are proud that all of our booths are made here in the U.S.A. by skilled artisans."
Affordable Seating's Reversible Table Tops are available in round square and rectangular shapes and range in size from 24" in diameter to 60" or in square / rectangular shape is a from 24" x 24 to 30" x 72"point. The Reversible Table Tops are great choice for restaurant owners to furnish their restaurant at budget prices. They are an ideal choice for restaurants and cafes that experience high traffic and are versatile enough for any dining establishment.
To view Affordable Seating's full selection of restaurant chairs, bar stools, booths, tables and patio furniture visit http://www.affordableseating.net or call a customer service representative at (888) 495-8884.
Check out La Villa Café's menu at http://www.lavillacafebrooklyn.com or call (718) 422-7892 for more details.