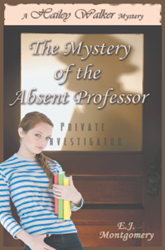 (The book) continues in the same spirit as the first mystery starring the energetic teen.
Greensburg, PA (PRWEB) September 11, 2013
Mysteries seem to have a way of popping up when teenager Hailey Walker is around. In this new second book in the Hailey Walker mystery series, Hailey has just returned to school in Hinsdale, Ill., after summer vacation and can't concentrate on school work. Instead, she and her friends, Alison and Brad, work to track down a couple of jewel thieves who want to steal artificial diamonds. When a college teacher goes missing, the trio are convinced the disappearance is related to the robberies.
"Hailey Walker and the Mystery of the Absent Professor" continues in the same spirit as the first mystery starring the energetic teen. A talk from a teacher and private investigator in career class leads Hailey and Alison to take his college course. When he tells the girls about fake diamonds being stolen and his work on the case, Hailey knows she's found the next mystery to solve. The investigator disappears, however, and his office has been ransacked. An overheard conversation suggests a possible lead in the diamond case, so Hailey concocts a potentially risky plan. Their investigation leads to a special collection of gems named for the zodiac and a gospel interpretation of the constellations, such as Leo the Lion symbolizing Christ the King. Can the teens solve the mystery before diamonds go missing or – even more importantly – something happens to the professor?
Author E.J. Montgomery is already working on the next book in the series, "Hailey Walker and the Haunted Bell Tower." She and her husband live in western Pennsylvania. She is inspired by the beauty of nature and writes stories that reveal God's love and mercy, and her writing includes personal experiences of God working in people's lives.
For additional information, please visit http://www.haileywalkermysteries.com.
Hailey Walker and the Mystery of the Absent Professor
E.J. Montgomery
Dog Ear Publishing
ISBN: 978-1-4575-2068-6, 180 pages, $13.95 US
Available at Ingram, Amazon.com, Barnes & Noble and fine bookstores everywhere.
About Dog Ear Publishing, LLC
Dog Ear Publishing offers completely customized self-publishing services for independent authors. We provide cost-effective, fast, and highly profitable services to publish and distribute independently published books. Our book publishing and distribution services reach worldwide. Dog Ear authors retain all rights and complete creative control throughout the entire self-publishing process. Self-publishing services are available globally at http://www.dogearpublishing.net and from our offices in Indianapolis.
Dog Ear Publishing – self-publishing that actually makes sense.