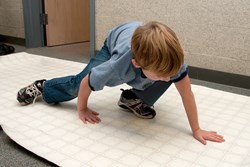 Learning to read left-to-right: cross-lateral crawling comes first.
Seattle, WA (PRWEB) September 27, 2013
School is starting up again, and Primary age children are coming to school excited about learning to read.
Most of the six-year-olds and seven-year-olds in this country will be entering First Grade and they will expect to learn to read, if not on the first day of school then certainly very soon thereafter. Most of them will certainly have success in learning to read that they are looking forward to. (See http://www.gse.harvard.edu/news/features/vision04172001.html )
But only most of them: Not all. They will go to school every day, they will want to learn to read, and they will do their very best, but it won't be possible for them. They won't be able to learn to read, or to read fluently, or to learn by reading, or to enjoy reading.
About thirty percent of the six- and seven-year-olds in America's schools this fall will not be able to learn to read. In any 25-student First Grade, from Maine to Arizona, from Florida to Washington, that is between seven and eight children in every class. Vision help
Why?
They will have trouble learning to read because of their vision. They have, or most of them have, perfectly good vision for seeing at a distance, which is what the tests in the nurse's office measure.
The chart on the wall in the nurse's office with the big E going in many directions, or with pictures of animals in rows, or of letters out of sequence, is called the Snellen chart, named for a doctor in the Northern Army during the Civil War, in 1863. He made the chart to check on young men being recruited to serve in the Union Army, and he wanted to be sure that they could see the people on the Confederate side whom they were trying to shoot.
That test was only designed to measure how clearly you can see an enemy soldier at a distance of twenty feet, which is of no use at all to someone who is trying to learn to read print at a distance of seven inches. That test is the one, and the only one, used nearly everywhere in elementary schools in America to check if children's vision is good enough – for READING.
There are only three states in the United States which use another measure of visual reading readiness: those states are Kentucky, Missouri, and Illinois. California is working on the problem, as is Washington State. Children need to be screened for how their eyes work together as they look at print just a few inches away. This is called "convergence," and if the eyes can't do it then the print is blurry, the words move around on the paper or seem to be printed in several shades of black and gray, and children literally cannot see to read. Some children, like the boy in this photo, also need to practice developmental movement. Until he can move in a cross-lateral pattern, it may be harder for his eyes to move his eyes left to right across print efficiently and effortlessly.
Most optometrists know this but not all pediatricians know this. And yet in 47 states we do nothing to help the children who need help.
Katie Johnson outlines the problems clearly in her book, Red Flags for Primary Teachers, published by Tendril Press last fall. She will be speaking about her book and the present state of school vision screenings at the convention of the College of Optometrists for Vision Development (COVD) in Orlando (FL) in October.