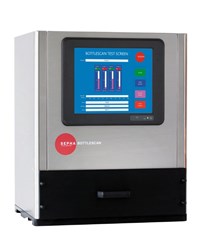 "BottleScan is the latest addition to Sepha's integrity testing product range and has been developed in response to increasing market demand for a more advanced, technology based integrity test for induction-sealed bottles." [ Paul Kelly, Sepha Ltd.]
Belfast, Northern Ireland (PRWEB) September 17, 2013
BottleScan from Sepha has a tool-less design and can test bottle seal integrity of up to 4 bottles simultaneously in a quick test cycle of approximately 60 seconds. The system produces objective 'PASS/FAIL' results enabling good bottles to be returned to the production line. BottleScan has the ability to run in compliance with 21CFR Part 11, offering pharmaceutical manufacturers and packagers a more technologically advanced, accurate and efficient solution for pharmaceutical bottle inspection.
Commenting on the launch, Paul Kelly, Sepha's Head of Sales & Marketing said, "BottleScan is the latest addition to Sepha's integrity testing product range and has been developed in response to increasing market demand for a more advanced, technology based bottle seal integrity test for induction-sealed bottles. Its tool-less design and configurable methods make it ideal for pharmaceutical lines running multiple products. Operator error is also eliminated as the quick, repeatable test provides objective data which is securely stored and can be built in to current Good Manufacturing Practice (cGMP) and used as part of robust QA testing. We look forward to showcasing it for the first time at Pack Expo".
Pack Expo takes place in the Las Vegas Convention Centre, Las Vegas from 23rd – 25th September, and brings together over 26,000 professionals from around the world, for what is set to be the year's most comprehensive event for the packaging and processing industry.
Visit Sepha's US Partner, Service Industries, at Stand C5100 for live demonstrations of BottlesScan throughout the Show. __title__ BottleScan]