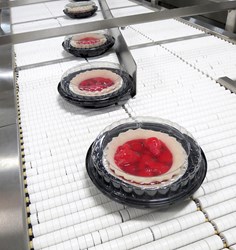 Huntington, IN (PRWEB) September 10, 2013
Shuttleworth, powered by Pro Mach, expands its popular Slip-Torque® product line with new V-Clean conveyors for wipe down or mild wash down environments. The new V-Clean system complements Shuttleworth's existing line of Industrial and Easy Clean conveyors to offer food and pharmaceutical companies a full range of material handling solutions, including wipe-down, heavy wash-down, and non wash-down systems.
The stainless steel frame V-Clean conveyor with Slip-Torque technology provides precise, continuous transport that improves throughput and minimizes product damage. Shuttleworth's Slip-Torque system uses individually powered, roller shafts covered with loose, segmented rollers. As the weight of the product increases or decreases, there is a corresponding change to the driving force of the rollers. When products stop on the conveyor, the segmented rollers beneath them also stop, generating low back-pressure accumulation. Product vibration, contaminant transference, abrasion and product damage are all minimized. The low back-pressure conveying surface ensures gentle collating and accumulating and precise product placement for wrapping and other package requirements without jamming and shingling.
The V-Clean system handles a wide range of product types, shapes, and sizes and is easily configurable for multiple independently operating lanes or specialized handling needs. Customers can set variable speeds for different sections of the conveyor from a central PLC with a user friendly Human Machine Interface.
"V-Clean offers customers a durable, advanced handling, light wash solution that is a high value alternative to the expense of a heavy washdown system," said Todd Eckert, Shuttleworth Business Development Director. "It includes all the line efficiency and gentle handling advantages of our Slip-Torque technology and ideally fits the needs and budgets of food and pharmaceutical companies with light wash requirements."
Shuttleworth revolutionized material handling technology with its first generation of Slip-Torque technology 30 years ago. Since that time Slip-Torque technology has been installed in more than 15,000 applications.
Shuttleworth will be exhibiting the V-Clean system at Pack Expo Las Vegas, September 23-25, Booth C-2121. The new conveyor will also be featured at the International Baking Industry Exposition in Las Vegas, October 6-9, Booth 11410.
About Shuttleworth
Since 1962, Shuttleworth has served as a leading manufacturer of product handling conveyors and designer of custom automation solutions worldwide. Shuttleworth specializes in accumulation conveyors, product diverters, multi-lane conveyors, servo-controlled machine in-feeds, and high-speed sorters and combiners. Shuttleworth leads the industry in gentle product handling using its unique Slip-Torque technology. For more information, visit http://www.Shuttleworth.com.
About Pro Mach
Pro Mach is a leading provider of integrated packaging products and solutions for food, beverage, household goods, pharmaceutical, and other diverse consumer and industrial companies. Through multiple business units and related brands, Pro Mach provides equipment, installation, training, parts, and service in primary and secondary packaging, flexible packaging, end-of-line packaging, material handling, and identification and tracking.
Pro Mach has a diverse customer base, from Fortune 500 companies to smaller, privately-held businesses worldwide, which depend on reliable, flexible, technologically advanced packaging equipment and integrated solution sets. Pro Mach is headquartered near Cincinnati, Ohio with manufacturing facilities and offices throughout the United States and Canada. For more information about Pro Mach visit our website at http://www.ProMachInc.com.