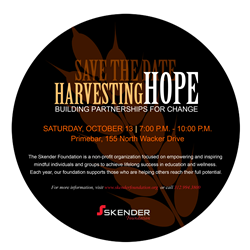 Common Threads not only provides food to these students, they provide the education needed to stay well with the food choices they make, and the means of cooking the food in a healthy way
Chicago, IL (PRWEB) September 10, 2013
Skender Foundation's Builders' Board is continuing its commitment to education and wellness this fall by naming Common Threads as the charity partner for its annual Harvesting Hope event. As the charity partner for Harvesting Hope, Common Threads will receive a portion of the donations from the fundraiser, helping hundreds of thousands of children in underserved communities learn how to cook wholesome, healthy meals in professional led, curriculum-based after-school programs.
The Builders' Board is comprised of young leaders from the Skender Foundation who are promoting the group's legacy of giving among young professionals in Chicago. Harvesting Hope, Builders Board's annual fundraiser, raised several thousand dollars for local charities in its inaugural event in 2012. This year's Harvesting Hope will take place on October 17 from 5:30 to 8:30 p.m. at Hubbard Inn at 110 W. Hubbard St. in Chicago. Tickets will be available on September 10 at http://www.skenderfoundation.org.
Cheryl Skender, chair and president of Skender Foundation, says the group chose Common Threads as the fundraiser's beneficiary because its mission aligns with Skender Foundation's mission. Both organizations are empowering people through education and wellness. Common Threads helps underprivileged students around the country improve their cooking skills and food choices. The organization's goal is to get one million kids cooking throughout the country over the next five years.
"Common Threads not only provides food to these students, they provide the education needed to stay well with the food choices they make, and the means of cooking the food in a healthy way," said Skender.
Common Threads provides nutrition, cooking and gardening classes for children and families representing cuisines and cultures from all over the world. Founded by celebrity chef Art Smith and supported by chefs from all over the country, the organization is based in Chicago and also serves Miami, Washington, DC and Los Angeles. For more information on Common Threads, visit http://www.commonthreads.org.
# # #
About the Organization:
Education and wellness are vital to helping us reach our full potential. Skender Foundation is a 501(c)(3) Private Foundation dedicated to helping organizations help those in need. Our Foundation was built on the belief that everyone should have access to tools that help people make prosperous life decisions.
About Common Threads
Founded in 2003 by Chef Art Smith and artist Jesus Salgueiro, Common Threads is a nonprofit organization committed to educating communities about healthy food choices through the power of cooking. For 10 years, we have been teaching children living in underserved communities how to cook wholesome, healthy meals in professional led, curriculum-based after-school programs. We believe that food defines the quality of a person's life and in 2013 are collaborating with other organizations to get one million kids cooking in the next five years. Learn more at http://www.commonthreads.org.