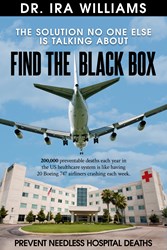 Greenville, SC (PRWEB) September 25, 2013
Anatomy of a Tragedy [http://is.gd/aBMAQh recounts how a newly trained neurosurgeon opened his first office in Dallas in 2011 where he rapidly gained hospital privileges, and the services of a marketing team. Two years later this surgeon had left two patients dead, four other patients paralyzed, and a trail of botched surgeries says writer Saul Elbein. Several Dallas-area hospital medical staffs and administrations rapidly became aware of this surgeon's numerous, and consistent, "surgical misadventures", and each of those hospital medical staffs and administrations had turned to the Texas Medical Board, several hours away in Austin.
Dr. Williams' book points out that in spite of numerous contacts by doctors, attorneys, and others aware of the patient harm this surgeon had been causing the Texas Medical Examining Board lacked the necessary regulatory mechanism to rapidly suspend his practice. Federation of State Medical Boards is headquartered in Dallas, and their web site is replete with the regulatory services provided by the medical board in every state. Yet the FSMB has remained silent regarding this surgeon's surgical debacle, and few people are aware that every state's medical board is over 100 years old.
According to Anatomy of a Tragedy, this surgeon, and the few others like him, would have been deemed qualified to treat patients in their first hospital staff appointment. But, as Dr. Williams points out, the greater tragedy is that this surgeon was able to harm (and kill) so many patients at so many different hospitals in the same area long after his surgical shortcomings were well recognized.
Dr. Ira Williams, Patient Safety Expert, and author of three books on problems within the heath care delivery system, provides deeper understanding of how each state's medical regulatory system lags far behind the needs demanded in a 21st Century health care system in his latest book Find The Black Box.