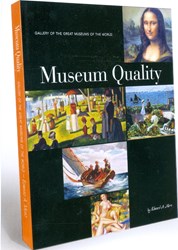 "I have gorgeous paintings from Prestige Fine Art all over my home and office. Guest never fail to comment on them. I'll be back when I have empty wall space...or, just want to look at something new," enthuses Alex Green
Investment director
Oxford
Coral Springs Florida (PRWEB) September 18, 2013
Fine art reproductions dealer Prestige Fine Art recently published a new art book, Museum Quality - Gallery of the Great Museums of the World, a monumental 228-page tour de force by author and Prestige Fine Art founder Ed Mero. The book is designed to educate readers about fine art reproductions and the intriguing world of fine art in an entertaining format, which includes 400 color plates from the Louvre, Chicago Art Institute, National Gallery of Art, Washington, D.C., Metropolitan Museum, and other major museums.
Museum Quality explores the relationship between famous artworks and the art forgers, copyists, and love-struck collectors who are passionate about them. The book clearly defines the difference between forgers and copyists and contextualizes the interactions among various key players on the stage of art history, from world-class museums and art dealers, to the artists themselves.
During the course of his career, Mero has elevated the making of fine art copies from the realm of imitation to the status of museum quality art. In his book Mero, makes the case for investing in such fine reproductions, offering many reasons why it makes perfect sense to own "priceless" oil paintings by your favorite artists—such as Van Gogh, Monet, Renoir, among others—at affordable prices, and hand-painted by Prestige Fine Art's stable of talented copy artists. He also devotes chapters to reproductions of other media, such as sculpture and pastel.
Masterpieces of Masterpieces
Mero who has gained a loyal following among public and private collectors, has been immersed in the world of museum quality art and fine art reproductions for more than two decades. Along the way, he has accumulated many stories about artists, collectors, and the works of art that bring them all together. His journey—from pioneer to the nation's foremost producer of affordable recreations of the world's greatest pieces, as well as lesser-known works—illustrates why collecting these "masterpieces of masterpieces" is worthwhile and enjoyable.
The Buzz
Here is some of the early word-of-mouth about the book:
"Museum Quality is a delightful and inspiring book written by a true connoisseur of the arts," says renowned speaker and author of Forecasts and Strategies, Mark Skousen.
"I have gorgeous paintings from Prestige Fine Art all over my home and office. Guests never fail to comment on them. I'll be back when I have empty wall space… or, just want to look at something new," says New York Times bestselling author Alex Green, investment director of The Oxford Club and featured on Oprah & Friends, Fox News, and the O'Reilly Factor—and also profiled in The Wall Street Journal and Forbes Magazine.
The general consensus is that the book is both inspiring and creative and offers "A new understanding of why art collectors are embracing museum quality copies of their favorite paintings."
These days, it seems, you can surround yourself with coveted works of art by the world's greatest artists without stepping foot in the shadowy, albeit romanticized, forgery underworld. With a reputable and recognized copy source right here in the United States, why wouldn't you do it?
Museum Quality is available at http://www.prestigefineart.com & http://www.MuseumQualityfineart.com.
View the book trailer at http://www.museumqualityfineart.com. The book is also offered at Amazon.com.
https://www.facebook.com/pages/Prestige-Fine-Art/352098949398