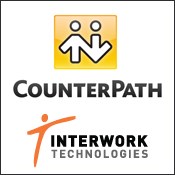 "Interwork Technologies is excited to partner with CounterPath and its award-winning solutions to support their channel growth strategy." says Joe Graci, Interwork Technologies President and GM.
Toronto, Ontario (PRWEB) September 11, 2013
Interwork Technologies, Inc. (http://www.interwork.com), a North American specialty distributor of Security, Information Management, and Communications solutions, today announced a strategic agreement with CounterPath Corporation (http://www.counterpath.com), a leading developer of award-winning desktop, tablet and mobile VoIP software products and solutions.
Through this agreement, Interwork Technologies, Inc. will provide its extensive roster of customer access to CounterPath's industry-leading Bria desktop and mobile softphones including its Client Configuration Server (CCS) – an innovative licensing and provisioning system that allows enterprises and operators to easily deploy and manage complete communications solutions. Interwork Technologies is also offering CounterPath's branding, customization and support services to provide enterprise customers with a complete hosted unified communications platform.
CounterPath is a global leader in softphone technology, with millions of endpoints downloaded. With the largest list of interoperability with IP PBXs and SIP-based network infrastructure softswitches, Bria is built toward industry standards with proven multimedia technology that provides a high-quality, unified communications experience and voice and video calls over fixed, mobile and Wi-Fi broadband networks. Bria's ability to use mobile and Wi-Fi networks gives businesses new options for "always on" connectivity while realizing cost savings through free Wi-Fi networks.
"Interwork Technologies is excited to partner with CounterPath and its award-winning solutions to support their channel growth strategy," says Joe Graci, Interwork Technologies President and GM. "With organizational structures becoming increasingly distributed, flexible, and mobile, Interwork's Value Added Resellers can now offer their customers a solution that is purpose-built to connect, communicate, and collaborate on multiple devices and platforms."
"Demand is on the rise for enterprise telephony solutions which are not only IP-based but cloud-managed and cost-effective to deploy," said Tom Smith, Executive Vice President of Sales at CounterPath. "We are pleased to partner with Interwork as part of our new channel partner Master Distribution Program and look forward to working together to meet the demand for next-generation desktop and mobile softphone applications and hosted solutions."
About Interwork Technologies Inc.
Interwork Technologies Inc. is a North American value-added specialty distributor of security, information management, and communications solutions, established in 1991 with field sales resources in both Canada and US. Interwork helps resellers and vendors to develop new business opportunities that will help them to grow into new markets. Interwork also serves an extensive partner network of resellers and solution providers as an advisor in emerging technologies.
For more information, visit http://www.interwork.com.
About CounterPath
CounterPath's SIP-based VoIP softphones are changing the face of telecommunications. An industry and user favorite, Bria softphones for desktop and mobile devices, together with the Company's server applications and Fixed Mobile Convergence (FMC) solutions, enable service providers, OEMs and enterprises large and small around the globe to offer a seamless and unified communications experience across both fixed and mobile networks. Standards-based, cost-effective and reliable, CounterPath's award-winning solutions power the voice and video calling, messaging, and presence offerings of customers such as Alcatel-Lucent, AT&T, Verizon, BT, Mobilkom Austria, Rogers, Avaya, BroadSoft, Cisco Systems, GENBAND, Metaswitch Networks, Mitel, NTT and NEC.
For more information about CounterPath's Bria softphone applications and provisioning solutions, visit: http://www.counterpath.com/products.
Press Contacts:
Daniel Palmer
Marketing Manager
Interwork Technologies Inc.
+1 (800) 461-8649 x4268
danielp(at)interwork(dot)com