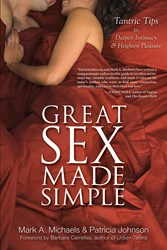 One of the best edited, most thoughtfully composed and formatted books of the non-fiction, how-to ilk ever written!" —Jennifer Pritchett, Founder & Owner of The Smitten Kitten
New York, NY (PRWEB) September 12, 2013
Great Sex Made Simple: Tantric Tips to Deepen Intimacy and Heighten Pleasure (Llewellyn Worldwide) by Mark A. Michaels and Patricia Johnson has been named a Living Now Book Awards Silver Medalist in the Femininity/Sexuality Category. This is the fifth award Michaels and Johnson have received for their book; these include: Independent Publisher (IPPY) Gold Medal in Sexuality/Relationships, ForeWord Reviews Book of the Year Silver Medal in Self-Help, International Book Awards Winner in Self-Help-Relationships. Great Sex Made Simple also won an Eric Hoffer Awards Honorable Mention in Health.
"Patricia Johnson and Mark Michaels have written a compassionate and accessible guide to an often mysterious but valuable tradition, and made it relevant for today's readers who want to find more connection, spirituality and care in their lives and love." –Naomi Wolf, author of Vagina: A New Biography and The Beauty Myth
Great Sex Made Simple explores new and surprising sources of sensual delight, without requiring readers to learn the entire ancient history of Tantra or demanding that they spend many hours in study and self- exploration. By breaking the book into short, succinct chapters, the authors make Tantra accessible, easy, and fun. "We live in a fast paced world," say Michaels and Johnson, "and time and pleasure are precious."
Michaels and Johnson are gearing up for a national book tour to support the release of Partners in Passion: A Guide to Great Sex, Emotional Intimacy, and Long-Term Love, coming from Cleis Press in February 2014.
Mark A. Michaels was born and raised in New York City. He graduated from the University of Michigan with honors and distinction. He holds a J.D. from NYU and Masters degrees in American Studies from NYU and Yale. He has written for scholarly and legal publications and for the stage and has had his work produced off- Broadway He took his first Tantra class in 1997, gave his first lecture on the subject two years later and teamed up with Patricia Johnson shortly thereafter.
Patricia Johnson was born in Michigan and grew up in Missouri. She spent many years as a professional operatic soprano, performing leading roles at some of the world's premiere venues, including an appearance on PBS's Live from Lincoln Center, before retiring in 2010. In 1999, a longstanding interest in Tantra inspired her to attend a lecture by Mark Michaels, now her husband and collaborator. Since then, she and Michaels have taught and lectured throughout the U.S., in Canada, the Caribbean, Europe, and Australia. Their books: Great Sex Made Simple, Tantra for Erotic Empowerment, and The Essence of Tantric Sexuality have won awards and received critical acclaim.
Contact:
Kim Dower
http://www.kimfromla.com
323-655-6023