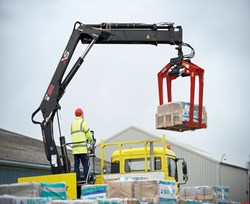 Brian Peek's tragic death could and should have been prevented. The lifting equipment on the lorry was badly maintained and simply wasn't safe for use.
Bolton, UK (PRWEB UK) 16 September 2013
Canterbury Crown Court heard that Brian Peek, aged 57, from Ashford, died in November 2006, while delivering building materials to a house in Wittersham (2). According to court documents, as Mr Peek was unloading bags of hardcore and aggregate in his truck, he got trapped between the lifting bucket and the vehicle. Unfortunately, the incident was fatal and he was pronounced dead at the scene. (1)
Mr Peek's employers at Moore's Turf And Topsoil Ltd have pleaded guilty to two charges, and they have been fined a total of £85,000 plus a further £97,791 in costs. (1)
According to Health and Safety Executive, the truck was fitted with a small crane and shell bucket, which Mr Peek used to move the bags from the lorry to the ground. It is believed that, while unloading the last bag, he leant over the back of the lorry and the crane slew around, trapping his neck between the bucket, and the back of the lorry's tipping body.
Commenting on the news, Tom Fairclough, Executive at Asons Solicitors, said that:
"A fatal accident of this kind is devastating. It could have easily been prevented had Health and Safety guidelines been in place."
"Here at Asons, we strongly believe that no one should die because of negligence from an employer. Those who have experienced similar working conditions should not hesitate to make a health and safety claim."
Following the hearing, HSE Principal Inspector Mike Walters, said:
"Brian Peek's tragic death could and should have been prevented. The lifting equipment on the lorry was badly maintained and simply wasn't safe for use. It was also unnecessary because the firm had better equipment more suited to the job, which could have been used instead.
"Had Moores Turf & Top Soil taken time to properly assess the risks associated with the delivery of bulky bags of hardcore and aggregate, it would have become clear that a safer method of working was necessary and could be used.
"Employers must ensure that they properly maintain lifting equipment and that they provide their employees with the most suitable and appropriate equipment for the tasks they undertake. They must also ensure that safe systems of work are followed on site during the unloading of goods from vehicles." (1)
Asons Solicitors suggest that if someone would like to learn more about the consequences of construction accidents, or if they would like to better understand the Industrial Accident Claim process, that information is available at http://www.asons.co.uk, or via an expert helpline on 01204 521 133.
(1) Health and Safety Executive, 09/09/2013 hse.gov.uk/press/2013/rnn-lse-13.htm
(2) Canterbury Crown Court, 09/09/2013 - Case Number T20120202

About Asons Solicitors:
Asons Solicitors is a Bolton-based law practice that specialises in personal injury and industrial disease claims. Founded by brothers Imran Akram and Kamran Akram, Asons Solicitors has developed to become a young and dynamic law firm that delivers practical solutions to clients in times of difficulty. Their continued focus on their staff has seen them awarded with the Investors in People "Gold Award"; which is reflected in the professional and personable approach they take in working with clients. They strive to grow and to develop, and their supportiveness and attention to detail ensures that their clients use them time and again.
For further information contact:
Email: info(at)asons.co(dot)uk
Website: http://www.asons.co.uk