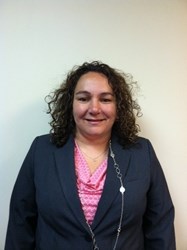 Jericho, NY (PRWEB) September 10, 2013
Diana Turner has joined Purolator International as Manager of its Cincinnati/Kentucky branch. Purolator International is the leading provider of cross-border logistics between the U.S. and Canada and a subsidiary of Canada's largest integrated delivery services provider, Purolator Inc. The company has expanded its branches throughout the U.S. to 30 to support recent growth in the U.S.
Diana Turner brings 15 years experience as a District Sales Manager for Enterprise Holdings, the parent company of Alamo Rent A Car, Enterprise Rent-A-Car and National Car Rental, to Purolator International. She has extensive outside sales experience on the B2B side. Her management experience includes overseeing operations for seven locations and managing over 50 employees. She is a graduate of Wheeling Jesuit University with a B.S. in Business Management.
"Purolator International continues to expand its presence in key U.S. markets," said Purolator International Vice President, Sales & Marketing Jon Routledge. "The Midwest is such a key market, and we are looking forward to continued growth in that area with Diana Turner at the helm of the Cincinnati/Kentucky branch."
Exports from Ohio to Canada in 2011 totaled $18.7 billion, 40 percent of the state's export figure, according to the Ohio Department of Development. By comparison, U.S. exports to Canada were 19 percent of the national total that year. The Cincinnati/Kentucky branch of Purolator International will support this growth in Ohio's top six export categories: machinery, vehicles, aircraft, electrical machinery, plastics, and optics.
About Purolator International
Purolator International is a subsidiary of Purolator Inc., Canada's largest integrated parcel and freight delivery services provider. Purolator International specializes in the air and surface forwarding of Express, Freight and Parcel shipments, customs brokerage, and fulfillment and delivery services to, from and within Canada. Purolator International was recently selected for a "Quest for Quality" award in Third Party Logistics (3PL).
In addition to facilities throughout New York, Purolator International has locations in key U.S. and Canadian markets including Atlanta, Baltimore, Boston, Buffalo, Charlotte, Chicago, Cincinnati, Cleveland, Columbus, Dallas/Ft. Worth, Denver, Detroit, Houston, Indianapolis, Los Angeles, Miami, Milwaukee, Minneapolis, Montreal, Nashville, Newark, Philadelphia, Phoenix, Pittsburgh, Raleigh/Durham, Salt Lake City, San Diego, San Francisco, Seattle, Saint Louis, Toronto, and Vancouver.
For more information about Purolator International, visit http://www.purolatorinternational.com.
# # #