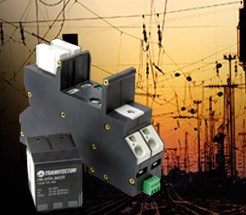 The DTA significantly reduces labor and material costs associated with resource-intensive AAR terminals commonly used in the rail industry.
Hayden, ID (PRWEB) September 12, 2013
Transtector Systems, Inc., a Smiths Power business, today announces the launch of its DIN Rail mounted railroad track signaling surge suppressor with equalizer, the Dual Track Arrester (DTA).
 
The Dual Track Arrester features an industry leading low voltage protection level to effectively protect track monitoring circuits located in bungalows and shelters from lightning and induced surges.
 
"Its main advantages lie in its innovative design," explains Mark Hendricks, Global Product Manager. "The DTA significantly reduces labor and material costs associated with resource-intensive AAR terminals commonly used in the rail industry. Its surge modules contain 3-mode track circuit protection, effectively replacing up to three separate surge protective devices used in traditional installations. In addition, the "plug and play" concept eliminates any potential mis-wiring issues during maintenance and troubleshooting procedures."
 
Remote status monitoring capabilities, easy circuit disconnect and dedicated ports for high voltage "megger" testing and other routine signal maintenance tasks further improve serviceability over traditional AAR terminals.
 
To address the rail industry's critical requirement for continuous operability, the Dual Track Arrester is designed to fail open through thermally disconnecting fuses. It meets all AREMA wiring and surge requirements.
About Transtector
Transtector Systems specializes in the protection of highly sensitive, low voltage equipment through its patented, non-degrading silicon diode technology and custom filters. Its power quality expertise translates into a diverse product offering including AC, DC, and signal applications as well as integrated cabinets, power distribution panels and EMP hardened devices.
About Smiths Power
Smiths Power is a leading supplier of power distribution, conditioning, protection and monitoring solutions for data centers, wireless communications and other critical or high-value electrical systems.
As a family of brands, PDI, Onyx, PolyPhaser, Transtector, DOWIN, LEA and RO Associates unite under one umbrella to Transform, Distribute, Monitor and Protect™ power in global networks and systems. Our companies provide expertise in consulting, design and manufacturing of power transformers and distribution systems, static switching, power monitoring, RF, AC, DC, data signal and EMP protectors as well as power quality engineering services.
Alongside Smiths Connectors and Smiths Microwave, Smiths Power is part of the Smiths Interconnect division of Smiths Group (http://www.smiths.com), a global leader in applying advanced technologies for markets in threat and contraband detection, energy, medical devices, communications and engineered components. Smiths Group employs around 23,000 people in more than 50 countries.
For More Information:
Linda Johnson: Marketing Director
Protection Technology Group
Tel.: (208) 772-8515
Email: ljohnson(at)protectiongroup(dot)com