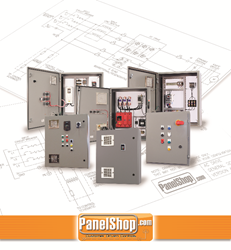 PanelShop.com brings a modern approach to the traditional panel building process. It's simple. Browse, Build, Buy.
Monroeville, PA (PRWEB) September 24, 2013
E-commerce is changing the way companies do business worldwide and the industrial landscape is no exception. The ability to build and purchase pre-engineered and custom electrical control panels entirely online is revolutionizing the way electrical control panels are acquired.
PanelShop.com's unique approach enables users to design their own electrical control panels online. With components from major electrical control manufacturers including ABB, Allen Bradley, and Siemens among others, users get an instant price and general schematics for their configuration, saving time and money.
"We are very excited to introduce PanelShop.com," stated Ryan Svilar General Manager at PanelShop.com. "PanelShop.com brings a modern approach to the traditional panel building process. We will continue to bring streamlined innovation, via our growing product lines, to ensure a consistent evolution to the site."
The process is simple. Browse, Build, Buy. PanelShop.com users browse through numerous configurators including AC Drives, DC Drives, Combination Starters, Operator Stations, SCR Controls and Soft Starters, seek out their preferred manufacturer, and build a control panel to meet their needs. Each configurator has a list of options to choose from. Users receive instant pricing and the ability to purchase directly from PanelShop.com.
About PanelShop.com
PanelShop.com is a single source supplier for all your electrical control panel requirements. PanelShop.com produces user-configured, pre-engineered control panels for industrial automation that meet the highest quality industry standards, as well as custom built configurations meticulously designed to meet user's specific automation needs.