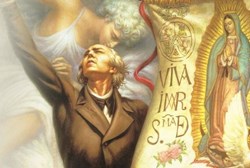 Celebrate the occasion by calling loved ones anywhere around the world at affordable rates only with Pure Minutes
New York, NY (PRWEB) September 12, 2013
Grito de Dolores, not to be confused with Cinco de Mayo, celebrates the launch of the Mexican fight for Independence against the Spanish colonial government in 1810. The term Grito de Dolores ( English: "Cry of Dolores") is in reference to the battle cry of Miguel Hidalgo y Costilla, parish priest of Dolores, on Sept. 16, 1810.
Celebrate the occasion by calling loved ones anywhere around the world at affordable rates only with Pure Minutes. Act now and receive $3 in free credit for international calling; that's up to 200 minutes to Mexico, 150 minutes to Peru and 60 minutes to the Dominican Republic! Start by visiting the Pure Minutes website in (English) or in (Spanish) and follow the easy 1-step process to get started today.
Hidalgo gathered his congregation of Indians and mestizos and called for Mexican independence. The exact speech is lost in time, as with many noteworthy Mexican speeches of the decade, however a wide variety of "reconstructed" versions have been published. One such reconstruction quotes Hidalgo as saying "My Children, a new dispensation comes to us today…Will you free yourselves? Will you recover the lands stolen 300 years ago from your forefathers? We must act at once."
Though the Criollos (Mexican-born people of Spanish heritage) had long since been plotting their road to independence, this new movement was far more effective. Starting from Dolores, the revolutionaries traveled San Miguel de Allende and to Mexico City to gather more supporters. During the trip, they acquired a banner adorned with the image of the Virgin of Guadalupe, which became a rallying symbol. The Virgin of Guadalupe is known as the patron saint of Mexico, and a woman of color, an important symbol of Mexico in its own right.
After a long and violent struggle, Mexico's independence was recognized in 1821 by the Spanish viceroy, 11 years after Father Miguel Hidalgo's cry. Since then, for nearly 200 years, Mexico has celebrated the anniversary of "El Grito" on the night of September 15th.
The celebrations start by ringing the actual bell from Padre Hidalgo's church and a speech from the President of the Republic of Mexico who reads the words of Miguel Hidalgo's call for independence. The night is capped off with a celebratory fireworks show as part of the traditional independence celebration that are part of the Fiestas Patrias.
September is also a notable month for Hispanic culture with the celebration of Hispanic Heritage Month Sept 15 – Oct. 15. Sept. 15 is significant because it is the anniversary of independence for Latin American countries Costa Rica, El Salvador, Guatemala, Honduras and Nicaragua. In addition to Mexico's independence day on Sept. 16, Chile recognizes its independence day Sept.18. Also, Columbus Day or Día de la Raza, which is Oct. 12, falls within this 30-day period.
To learn more about Pure Minutes and our amazing low rates visit the website at (http://www.PureMinutes.com.) Pure Minutes provides a low-cost international calling solution that works with any phone number, regardless of the current provider. This means that a user can enjoy the benefits of low international rates without needing to change their current landline or mobile cell phone service provider. Subscribed callers simply dial a local access number and through modern "Automatic Caller Identification" software we can recognize a subscribed caller making the need for complicated PIN codes a thing of the past.
The PURE Minutes difference

No Hidden Fees
No Connection Fees
No Maintenance Fees
Real Minute Rounding
No Contract Required
Minutes Never Expire
Low International Rates
Reliable, Clear Quality
About PureMinutes
PURE Minutes is a leading provider of prepaid international long-distance calling solutions. We provide an affordable communication solution that offers flexibility, portability and ease-of-use for both landline and mobile users. PURE Minutes offers competitive international calling worldwide with no hidden fees, no maintenance fees, no contract required, and minutes that never expire. PURE Minutes service is sold on the web and through regional and national retailers including MoneyGram, La Nacional and payXchange and is available to customers worldwide in English and in Spanish and accepts payments through all major credit cards and Paypal.
Follow us on Twitter (@PUREMinutes), Facebook (facebook.com/PUREMinutes), and LinkedIn (PUREMinutes, LLC) for up to the minute updates.
###