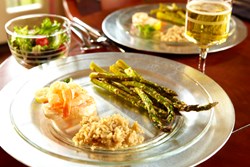 Foster Good Health Through Mindful Eating
Eugene, OR (PRWEB) September 12, 2013
Aside from clones, no two humans are identical; therefore no single diet fits all. Differing schools of thought offer contradicting messages for the perfect food regimen. And I am the human guinea pig who has tried them all. I drank the shakes, had the injections, read the books and joined the weight loss programs. My personal quest led me to design "Elegant Portions" portion-control dinnerware. I also wanted to explore how best to address a variety of diets from the perspective of a true healthcare professional. Crystal Petrello, MS RD LD, of ReNewLife, shared her thoughts on treating patients' varying dietary requirements.
Ms. Petrello recommends that her weight loss patients begin with "a progression from the standard American diet to MyPlate" –"standard American" meaning oversized portions, full-fat meats and dairy plus processed foods which are just some contributors to our epidemic rates of obesity, diabetes and cardiovascular disease in this country.
Portion-control being a major factor in unhealthy eating, USDA's MyPlate offers their suggestions for the five food groups using a familiar mealtime visual, a place setting. Portions include ½ plate for fruits & vegetables, ¼ for lean protein and ¼ for starch or whole grain, plus 1 serving of low-fat or fat-free dairy.
Ms. Petrello then introduced me to the Power Plate, the perfect alternative for vegans. Created by the nonprofit, Physicians Committee for Responsible Medicine, their website (pcrm.com) states, "These four food groups provide the good nutrition you need. There is no need for animal-derived products in the diet, and you're better off without them. Be sure to include a reliable source of vitamin B12, such as any common multiple vitamin or fortified foods."
Whether you choose to eat animal or plant protein, the average person wanting to lose or maintain weight should consume the equivalent of three MyPlates or Power Plates per day.
Those who want to gain weight are yet another diet category. Body builders who want to increase muscle mass often double-up on animal proteins. "I never recommend this much protein at one meal", said Petrello. Instead she advises a balanced diet with 3-ounces of protein employing the MyPlate or Power Plate five times a day, versus three. For others needing to gain weight, she added, "as we grow older or with certain diseases, people lose their drive to eat. The size of the plate and portions are not overwhelming and using several times a day can encourage calorie intake for health."
All types of dieters can easily adapt their chosen regimen to Meal-Trax®, our simply elegant measuring dinner plate. I designed the complete Trax Collection to make portion-control discreet, enjoyable and effortless for myself. It's made a difference in my quest and I hope to see others benefit.
We are thrilled to be donating Meal-Trax plates to Crystal Petrello's newly formed nonprofit, ReNew Life. She is one of the founders of this ground-breaking weight loss program; Its regimen comprises nutritional education, personal training and behavioral therapy, and is offered free to qualified individuals who could not otherwise afford the care. Located in Las Vegas, Nevada, they look forward to taking their program nationwide to help all types of dieters to embrace a healthy lifestyle.
Elegant Portions makes portion-control enjoyable for all types of dieters – even for those who can't afford it. They are dedicated to helping the ReNew Life nonprofit by donating plates for qualified participants in their free weight loss program. For additional information on Trax products, visit http://elegantportions.com, or contact Gail directly. For information about ReNew Life, visit http://www.facebook.com/RenewLifeVegas.