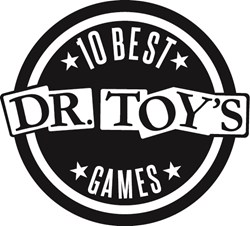 Eat to Win's FuNutritional Board Game wins Dr. Toy's 10 Best Games of 2013.
Highland, Michigan (PRWEB) September 19, 2013
Eat to Win is thrilled to announce that their Eat to Win FuNutritional Game has been recognized as one of the 10 Best Children's Games of 2013 by Dr. Toy.
Dr. Toy, Stevanne Auerbach, PhD, is considered to be one of the world's leading experts on play, toys and children's products. Dr. Toy has written 15 books and numerous articles about play and toys. Dr. Toy's Guide on the internet is visited by over 80,000 visitors a day.
The Eat to Win FuNutritional Game was among many entries competing to earn the "Best Products" Award. Dr. Toy spends a great deal of time reviewing products created by myriad manufacturers and designers the world over. Final selections have to match extensive criteria for excellence. Questions asked during evaluation are:

Is this product worth the price?
Does it have lasting "play value"?
Is it appropriate?
Is it fun?
Does it meet safety standards?
Jammi Roscoe, Chief Executive of Eat to Win, says, "We are so excited that our game has won this coveted award, especially since our games focus on helping children learn the importance of both exercise and healthy eating habits."
Gary Gabel, Co-Founder of Eat to Win, says, "This is another affirmation of the value of Eat to Win games in helping fight childhood obesity."
Interviews regarding Dr. Toy and the recommended best toys and products can be arranged through Walsh Public Relations at 203-292-6280 or by email to greg(at)walshpr(dot)com.
About Eat to Win:
Eat to Win was created by a concerned mom whose own child struggled with being overweight. Child obesity in America has become a major issue. An unhealthy lifestyle is a common problem among children and adults. Eat to Win was created to help encourage nutrition and exercise through fun and active games. Please share your stories with us on Facebook and Like Us to receive a discount! Our games are in agreement with ChooseMyPlate.gov.