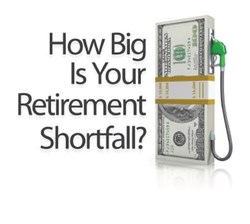 "Tell me and I may remember… show me and I will remember…involve me and I will understand." ~Chinese Proverb
Scottsdale, AZ (PRWEB) September 18, 2013
When it comes to Retirement Readiness, we're facing a crisis of epic proportion.Smart Financial Strategies, Inc. President and CEO Jeff Carter announced the launch of an OnDemand Seminar "How Big Is Your Retirement Shortfall?" to encourage pre & post retirees to calculate their retirement income readiness.
EBRI 2012 Retirement Confidence Survey* reveals only 14 percent of Americans report they and/or their spouse are very confident they have saved enough so that they can live comfortably in retirement. The Wall Street Journal* found that 56% of Americans haven't even tried to calculate how much retirement savings they will need for a comfortable retirement.
"Whether you're retired or very close to it, whether you've accumulated a couple hundred thousand dollars or several million, planning for your retirement is more challenging today than ever," states Jeff Carter.
It's never too early or too late to take control of your retirement income planning. Here's the 6 step process to go through in creating a Retirement Income Analysis.
Step 1: Articulate the retirement you've always envisioned, sharing your hopes, dreams and goals. What does it look like? What are you doing? Where are you doing it? And who are you doing it with? Does the retirement you envision include starting a business, working part time, moving and relocating, volunteer work, a new hobby, a vacation home, travel abroad, or going back to school?
Step 2: Take an inventory of all of your assets, savings and investments. In order to create a sustainable Retirement Income Plan, look at your assets such as retirement plans, mutual funds, annuities, insurance, stock and bonds, and a host of other assets.
Step 3: Calculate and get a pretty good idea of what your expenses in retirement will be. Some expenses will increase in retirement, while others may decrease, but focus on areas such as housing, food, transportation, clothing and personal items, health care, entertainment, and travel to name a few.
Step 4: Total up your income from all sources in retirement. In retirement, you'll likely have a patchwork quilt of several sources of income from areas such as Social Security, retirement accounts, stocks, bonds and mutual funds, CD's, inheritance, annuities, and money market funds for starters.
Step 5: The previous 4 steps will help determine in Step 5 if you have a projected retirement surplus or a shortfall.
After knowing what you envision your retirement to be, looking at your assets, savings and investments, having calculated your income in retirement less your estimated expenses, you'll be able to tell if you have a retirement shortfall… and if so, how big.
Step 6: If there is a shortfall, lay out the various options available and evaluate the associated tradeoffs with each one.
A Retirement Income Analysis is the easiest way for you to know with confidence if your Retirement Income Plan is sustainable for 20+ years of retirement.
Web resources:
*Employee Benefit Research Institute (EBRI) 2012 Retirement Confidence Survey March 2012 http://www.ebri.org/surveys/rcs/2012/
*The Wall Street Journal: The Best in Financing Your Future April 9, 2012 http://online.wsj.com/article/SB10001424052702303863404577281851645870274.html
About Smart Financial Strategies, Inc.
Smart Financial Strategies, Inc. was founded in 1990 by Jeff Carter. Jeff's passion for helping others navigate the treacherous waters of retirement planning began with a simple mission statement: "I shall make every conscientious effort to ascertain and understand my clients' circumstances and needs, and render those services which, in the same circumstances, I would render for myself. In addition to 23+ years of financial services experience, Jeff brings to his clients three professional designations: Retirement Income Certified Professional (RICP), Certified Senior Advisor (CSA), and Registered Financial Consultant (RFC). Earning those designations required advanced coursework in structuring effective retirement income plans, mitigating risks to a plan, and creating a sustainable stream of income to last throughout retirement.