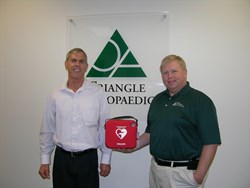 "Triangle Orthopaedics strives to be a partner in the community as well as improving the overall health and safety within the regions it serves."
(PRWEB) September 17, 2013
This morning Triangle Orthopaedic Associates, P.A. presented a brand new Philips Heartstart automated external defibrillator to Ed Best, Public Information Officer of Orange County Radio Amateurs, Inc. "Triangle Orthopaedics strives to be a partner in the community as well as improving the overall health and safety within the regions it serves," stated Chris Adkins, Chief Administrative Officer at Triangle Orthopaedic Associates, P.A.
Orange County Radio Amateurs is a 501(c)(3) non-profit organization of ham radio operators that serves Orange County, North Carolina and its surrounding areas with emergency communication using amateur, or, "ham" radio.
Amateur Radio is not just a popular hobby, but a service in which licensed members operate radio equipment. To become licensed, participants must pass an examination through the Federal Communications Commission (FCC) which allows them to operate on radio frequencies reserved by the FCC for use by hams known as "Amateur Bands."
Often abbreviated to OCRA, the ham radio club serves regularly at public events including bike races, running events, Ironman Triathlons, etc. Ed Best recognized that having a defibrillator on hand would help OCRA better serve the public at such sporting events. Nearly half of the club members are Red Cross CPR and AED certified, and now, thanks to Triangle Orthopaedic Associates, OCRA is the only ham radio club in the state with a defibrillator. "It's a dream come true," said Ed Best, who also works as a Volunteer License Examiner at OCRA.
During a public event, such as a bike race, for example, Orange County Radio Amateurs position members with ham radios at different stations along the race route. With the availability of APRS (Automated Packet Reporting System), their stations can track the movements of all other stations on a computer. The transmittal of GPS coordinates are transferred to the internet so the location of a transmitter can be tracked in real time. During a long distance sporting event, the greatest real time need is the tracking of key assets along the route, such as the location of the leader, how far away the finish line is, or changes in weather. With this communication system set up, OCRA can accurately track the progress of the athletes and can now promptly deliver an AED to exactly where it may be needed. The physicians at Triangle Orthopaedic Associates, P.A. are proud to donate such a vital piece of emergency equipment to OCRA, although they sincerely hope OCRA never has to use it.
To learn more about the Orange County Radio Amateur organization visit http://www.ncocra.org.
About Triangle Orthopaedic Associates, P.A.:
Since 1952, Triangle Orthopaedics has been treating an array of conditions from sports related injuries to joint replacements. Our rehabilitation centers afford thorough guidance to patients during the recovery process. Today, we have 16 locations across the greater Triangle region, including six Urgent Care clinics located in Apex, Chapel Hill, Durham, Raleigh and Wake Forest. With over 50 physicians, six MRI locations and numerous physical therapy facilities, you can count on us. Also, our Orthopaedic, Rehab Medicine, Rheumatology and Surgical Specialists Departments have got you covered! For more information on TOSC and Triangle Orthopaedic Associates, P.A., please visit: http://www.triangleortho.com .