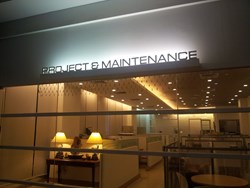 Intersectant Network is confident that all the newly launched products will provide its customers with the best returns where they are very cost-effective because of their long-operating lifespan.
Petaling Jaya (PRWEB) September 13, 2013
Every part of the world needs light in order to survive and for existence. In Malaysia, the lighting industry is among the most dynamic and fast-moving with new technologies introduced, better energy efficient products launched as well as more options becoming available for dealers, corporations and consumers.
Among the leaders in this industry is the Intersectant Network that offers value-for-money lighting products, high-quality services and others related to lighting for all business sectors. The Intersectant Network plays an integral role in the lighting industry of Malaysia, bringing in the latest LED technologies to the market, offering cutting edge products at unmatchable prices as well as offering the best modules for every segment.
As part of its latest offering, Intersectant Network will be launching LED lighting in Malaysia. This will be made more accessible with the new opening of its state-of-the-art office space in the city center of Kuala Lumpur. The new premises will be the one-stop center for customers and business partners to enjoy the broad range of products and services offered by Intersectant Network. To provide value added and more personal services, more than 15 staff who are highly qualified with the technical know-hows have been employed to better delivery to the customers.
As part of the commitment of delivering only high quality goods, Intersectant Network will only be offering LED for signage in Malaysia from the most renowned manufacturers in the world. Names like Philips, GE and CREE are among those that have been specifically selected for the Malaysian market and supplied through Intersectant Network, among others. Both GE and CREE are well established brands in the Malaysia lighting market not only within the region but around the world. All LED modules that are catered for signboards are provided with 5 years warranty and maintenance where appropriate.
Meanwhile, the Intersectant Network is offering the most cost-effective LED light bulbs which come with 5 years warranty as well as more savings. The chips are sourced and manufactured by world leading Korean manufacturer Samsung, the LED bulbs are guaranteed to perform at their optimal levels for a long duration with no compromise on quality and illumination.
Intersectant Network is confident that all the newly launched products will provide its customers with the best returns where they are very cost-effective because of their long-operating lifespan. As the LED lights are known to operate at least 8 times longer than conventional lighting modules, customers are assured of more savings in the long term.
As part of this launch, Intersectant Network is offering an online portal for purchase through BigBright.com. Online buyers are now able to enjoy special discounts and privileges when they buy through the Internet. For a short promotional period, online buyers can now enjoy dealer price when they purchase Philips fluorescent lights.
The LED chips offered through Intersectant Network and Bigbright Group are guaranteed to run for 50,000 hours because they are sourced only from the top manufacturers of LED bulb in Malaysia. This includes the likes of Samsung, CREE, Epsitar and Bridgelux, all of which are leaders in their respective LED segments. Meanwhile, the products that are sold through Intersectant Network have all passed stringent quality tests and approved by certification bodies like CE, UL, CRUus as well as Malaysia's own SIRIM. These products are specially selected from manufacturers from China, Taiwan and Korea and catered for the local market.
One of the most notable advantages of using LED lighting is that this technology offers the best Return-on-investment (ROI) from the electricity saved as compared to conventional lighting. According to the testing procedure, it has been found that ROI for LED lightings can be as short as 6 months. This means that the LED lighting products would be highly suitable for commercial and home use like hotels, retail outlets, shopping malls, homes and in heavy-usage environments like factories and manufacturing plants.
Through these advantages, coupled with the new operating office, the Intersectant Network will be able to serve its customers better with more high-quality offerings and products.