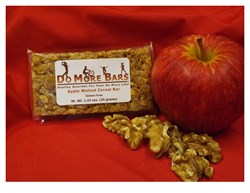 Pisgah Forest, NC (PRWEB) September 12, 2013
Earlier this year Do More Bars hosted a 'Do Us A Flavor' contest where the flavor to be created this year would be determined by popular vote. Apple Walnut was the winner and now after much cooking, tasting and refining the new Apple Walnut gluten free bars are now available on-line and in select locations. All those who voted for the winning combination were entered in a drawing to win six bars of the new flavor. Congratulations go to Barry D. of Asheville. He received his six-pack and had this to say....."I am enjoying the new Apple Walnut flavor! Dang it's soooo good! The flavor is so fresh and tasty! Thanks" The new whole grain bars contain apple juice, dried apples and walnuts; keeping with the company's philosophy of using all natural wholesome ingredients to make delicious and nutritious bars.
Do More Bars gourmet fruit & nut cereal bars are all natural and gluten free bars that come in a variety of flavors: Date Pecan, Pineapple Coconut, Raisin Peanut, Orange Cranberry Pecan, Cherry Almond and the new arrival, Apple Walnut. Similar to a rice crispy treat but in a healthy gourmet version, these top rated healthy snack bars are sold in 100 retail locations nationwide, including Ingles grocery stores and Earth Fare supermarkets, as well as online at DoMoreBars.com.
Do More Bars was founded by single-mom Tammy Woods in 2008. The healthy snack bars were created out of a need in Woods' family for snacks that would satisfy her health conscious mind and her daughter's taste buds. With a passion for cooking, Woods set out in the kitchen to create great tasting gluten-free bars that were all natural and made with wholesome ingredients. The result was a light, crisp, chewy bar, made with whole grain, fruit & nuts – winning approval of both mother and daughter. As a matter of fact, her daughter liked them so much she inspired Woods to start the business.